Associate Administrator for the Office of Congressional and Intergovernmental Relations
Joseph Brazauskas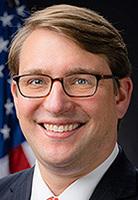 Joseph Brazauskas serves as the Associate Administrator for the Environmental Protection Agency's Office of Congressional and Intergovernmental Relations (OCIR). He previously served as an Associate Deputy General Counsel at EPA from August 2018 to June 2019. During his time at EPA, Joe has been EPA's primary liaison to Congress and state and local governments, ensuring that the Agency effectively communicates its priorities with the nation's leaders.
Prior to joining EPA, Joe spent nearly 8 years on Capitol Hill, working first as a Counsel for the House Committee on Oversight and Government Reform and later as Senior Counsel and Subcommittee Staff Director for the Environment Subcommittee of the House Committee on Science, Space, and Technology.
Joe holds a B.A. in economics from Colgate University and a J.D. from the American University, Washington College of Law.