AgSTAR's Anaerobic Digester Project Development Handbook is a comprehensive compilation of the latest knowledge in the industry on best practices for anaerobic digestion (AD)/ biogas systems. The goal of the Handbook is to ensure long-term project success for AD/biogas systems by providing background and a framework for project development.
The 3rd edition of the Handbook covers the basics of AD/biogas systems, including an overview of the biology and chemistry of the system, and addresses key questions to ask when developing and implementing an anaerobic digester project. Information in the Handbook can help stakeholders make informed decisions to maximize both profits and environmental performance while reducing implementation risks.
The AgSTAR Project Development Handbook is intended for agriculture and livestock producers, farm owners, developers, financiers, policymakers, implementers, and others interested in learning more about best practices for AD/biogas systems.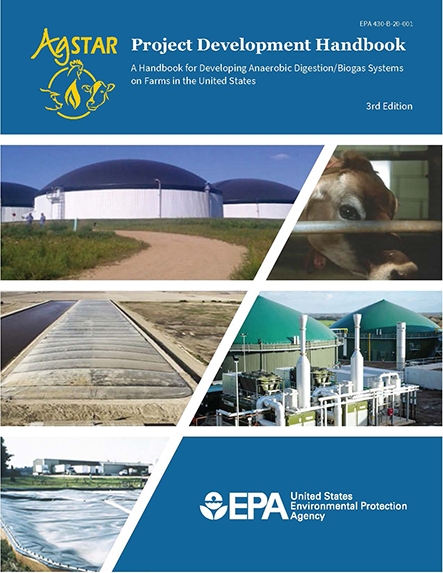 The Handbook is organized into the following sections:
Introduction and Considerations
Anaerobic Digestion Overview
Process Fundamentals
Digester Feedstocks
AD/Biogas System Products, Equipment and Uses
Economic and Financial Factors
Screening and Feasibility Studies
Business Relationships
Permitting
Public and Community Outreach
Safety, Operation, and Maintenance Considerations
Additional Tools and Resources
You may need a PDF reader to view some of the files on this page. See EPA's About PDF page to learn more.