Ambient Air Methods and Measurement Development Research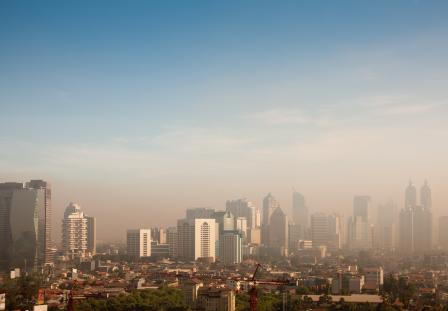 To effectively monitor air pollutants and implement the National Ambient Air Quality Standards (NAAQS), states, tribes and local air agencies need state-of-the-art methods for using measurement technology that provide accurate, reliable data. EPA researchers work to develop new sampling and analytical methodologies to improve characterization of ambient air quality. 
On this page:
Development of Methods for Monitoring Criteria Air Pollutants
The Clean Air Act requires nationwide monitoring of the six criteria pollutants using only monitoring methods formally designated by EPA as either Federal Reference Methods (FRMs) or Federal Equivalent Methods (FEMs). 
By Congressional mandate, EPA has the ongoing responsibility to review and evaluate formal written applications from instrument manufacturers for new candidate FRM and FEM samplers and analyzers. In addition, reviews are conducted for submitted modification requests regarding any proposed hardware, firmware and/or software changes to previously designated FRM and FEM samplers and analyzers. State, local, and tribal monitoring organizations require timely notification of these designation decisions and support during implementation and operation of approved FRM and FEM instruments to ensure the accuracy and validity of National Ambient Air Quality Standard compliance decisions made using the collected network data. 
EPA is also conducting research to develop new monitoring methods for criteria pollutant measurements. The methods are provided in the Federal Register Notices, semi-annual updates to the Ambient Monitoring Technology Information Center (AMTIC) List of Designated Reference and Equivalent Methods.  
Related Links: 
Development of Methods for Ambient Air Sensors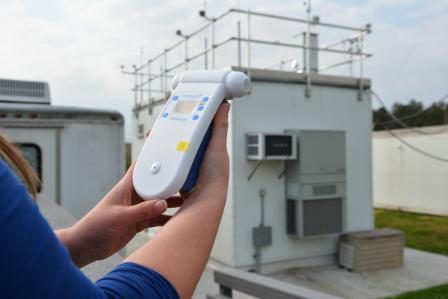 A low-cost, portable air sensor.Since the inception of EPA's research efforts in the emerging technology domain of air sensors, data quality from the low-cost market segment has been a leading issue of concern, not only with consumers, but also with the regulatory agencies tasked with fielding questions about the data from sensors.  With a desire to be an active and productive stakeholder in advancing this domain, EPA researchers are providing unbiased evaluations of sensor performance and infrastructural support through efforts such as the development of performance targets and testing protocols.
Given the wide range of data quality performance in low-cost sensors, EPA researchers have embarked on an effort to develop performance targets for air sensors used for non-regulatory ambient monitoring.  The goal in establishing performance targets is to define a threshold level of data quality to promote a systematic understanding of sensors measurements which maximizes high quality products and minimizes products that offer no value. 
Establishing data quality performance targets entails determining a set of parameters to include that define performance (i.e., precision, bias, minimum detection levels, etc.), and setting a value for each parameter that establishes the quality level being sought.  Learn more about air sensor research on the Air Sensor Toolbox web page.
Small Business Innovations Research (SBIR) Grants Related to Air Sensors
Related Links: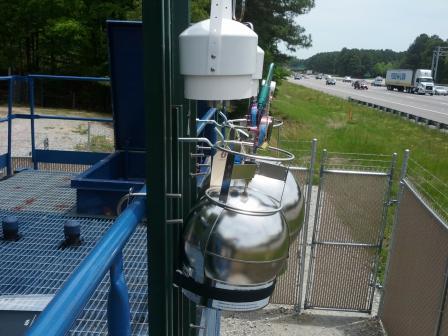 EPA researchers installed canisters to collect samples of volatile organic compounds from the air near a roadway.Toxic Organic Method TO-15A:​ ​​Research is being conducted to develop, evaluate and implement methods for non-criteria air pollutants such as formaldehyde and other VOCs.  Although some methods exist for these types of pollutants, the methods have known deficiencies. Research is being conducted to develop new methods to address the need to accurately and reliably measure these pollutants.
One area of research is to expand the application of Toxic Organic Method TO-15A. The method currently is used to measure a subset of the 97 VOCs included in the 189 hazardous air pollutants (HAPs) listed in the Clean Air Act Amendments of 1990.
Toxic Organic Method TO-15A was updated using best practices and lessons learned by users of Method TO-15. The newer method addresses and incorporates improvements in canister, sampling, preconcentration, and analytical instrumentation technology. This method focuses on the collection and analysis of VOCs in ambient air. 
EPA researchers are investigating the application of Method TO-15A for use in measuring the gas ethylene oxide (EtO). EtO is used in the chemical industry to make other chemicals, including ethylene glycol, which are used in manufacturing a variety of common products. EtO also is used to sterilize medical equipment and to fumigate spices. The goal is to develop a Supplement to Method TO-15A describing the optimum analytical measurement techniques for this hazardous air pollutant when collected in air samples in specially treated canisters.
An EPA field site for VOC measurement research in Duke Forest, Chapel Hill, NC.Formaldehyde Methods: Research is underway to develop and evaluate spectroscopic methods to measure ambient formaldehyde concentrations in real time. Formaldehyde is a hazardous air pollutant that contributes to ozone and fine particulate matter. Current measurement methods use time-, resource-, and labor-intensive offline wet chemistry and have known issues with accuracy.  Researchers are studying emerging real-time formaldehyde measurement technologies for their use in air quality regulation.
Method development is addressing fundamental issues for accurate measurements, including sampling methodology, assessment of interferences, and accurate calibration techniques.  Field evaluation is focusing on different environments, including background and urban air, fire emissions, and source-impacted regions.
Ongoing work at EPA includes measurement of formaldehyde concentrations and fluxes at the EPA's Duke Forest research site in Chapel Hill, North Carolina. The site is characteristic of the mixed hardwood forest ecosystem of the Southeast, which is linked to large isoprene emissions (and subsequent formaldehyde concentrations) in the region.The field site is the location of ongoing method development, calibration, and instrument validation work.
In another area, research is providing guidance to EPA, states and local air quality agencies to implement the continuous formaldehyde option for the nationwide network of Photochemical Assessment Monitoring Stations (PAMS), including necessary information for the development of Technical Assistance Documents (TADs) and other quality assurance documents. It characterizes a paradigm shift from offline measurements to online, real-time measurement techniques for targeted VOC compounds. Future work will leverage the knowledge and expertise generated by the research to expand measurement capabilities to other high-priority volatile organic compounds.
Related Links:
Development of Methodology for Air Toxics and Ozone Precursors 
States are required to use the nationwide network of Photochemical Assessment Monitoring Stations (PAMS) to monitor ozone, oxides of nitrogen (NOx) and volatile organic compounds (VOCs) for implementing the National Ambient Air Quality Standards. In October 2021, states will be required to measure hourly mixing height of air pollutants to enable routine evaluation of transport of atmospheric chemicals in chemical transport models such as WRF-CMAQ.
Researchers are evaluating commercially available ceilometers and the proprietary software provided by vendors for calculating mixing height. Currently no standard methodology exists that can be used across different commercially available ceilometers for mixing height. Researchers are testing and implementing a common algorithm for calculating continuous mixing heights from commercially available ceilometers and other profiling instruments. The research includes the development of a prototype data archive system to enable distribution of ceilometer data through the EPA Remote Sensing Information Gateway.
Results from prior EPA research highlight both the capability and the importance of routinely monitoring boundary layer height and vertical column densities that affect the distribution of nitrogen dioxide (NO2 ) and formaldehyde (HCHO), both precursors of tropospheric ozone. That knowledge is helping shape the implementation of a set of Enhanced Monitoring (EM) activities to improve measurement of these air pollutants close to the ground and in the air column above. These measurements will help EPA and state and local agencies to better understand the connection between satellite-derived column measurements and surface air quality measurements, thus increasing the value of satellite data. 
Related Links: