Indoor Air Quality Exposure and Characterization Research
Americans spend approximately 90 percent of their time indoors where levels of pollutants frequently can exceed those found outdoors. There are many sources of indoor air pollution including tobacco products, building materials, personal care and cleaning products, and outdoor air pollution that enters buildings and homes, including wildfire smoke and mold. 
Studies have shown that exposure to indoor air pollutants can lead to a variety of health effects, including respiratory problems and worsening of asthma. EPA conducts research on indoor air quality to better understand indoor sources, determine exposures and health risks to common indoor pollutants, and develop prevention and mitigation strategies.
EPA does not have Congressional authority to regulate indoor air, but the Agency promotes healthier indoor environments through a variety of activities. More information is available on the EPA's Indoor Air Quality web page.
On this page: 
Wildfire Smoke Impacts on the Indoor Environment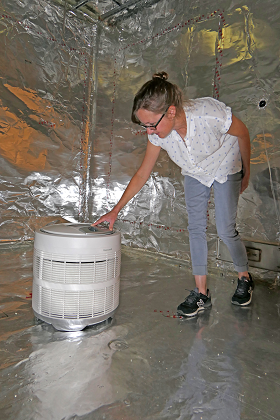 Researcher with air cleaner in a laboratory testing chamber.Wildfire smoke can infiltrate indoors, emphasizing the importance of creating clean air spaces that effectively reduce smoke exposure. EPA scientists are working with community and tribal partners to study how air cleaning and ventilation practices impact indoor air quality during wildfire events. Called the Wildfire- Advancing Science Partnerships for Indoor Reductions of Smoke Exposures (ASPIRE) Study, results can be used to determine best ways to reduce smoke in buildings during wildfires or prescribed fires. 
As part of this project, a laboratory study is being conducted to evaluate portable air cleaners, ranging from a Do-It-Yourself (DIY) air cleaner composed of a box fan with attached HVAC filter, to commercial HEPA air purifiers. In evaluating DIY and prototype solar air cleaners, EPA is partnering with Underwriter's Laboratory to conduct safety evaluations prior to testing the air cleaners under simulated smoke conditions. 
The cleaners are being evaluated for their effectiveness at removing fine particulate matter (PM2.5) and other toxic pollutants, and their ease of use and cost to operate. Wood, tree litter, and duff collected from the forest surrounding Missoula, Montana, are being burned to create simulated wildfire smoke. The air cleaners are operated under different scenarios such as varying fan speed or filter dirtiness, and placement in the room during moderate and high concentration smoke. These experiments will help researchers understand the range of effectiveness that may be achieved using these air cleaner technologies to reduce smoke exposure, along with best practices for their use.
Related Links:
Analysis of Microbiological Air Pollutants to Support Remediation Following Natural Disasters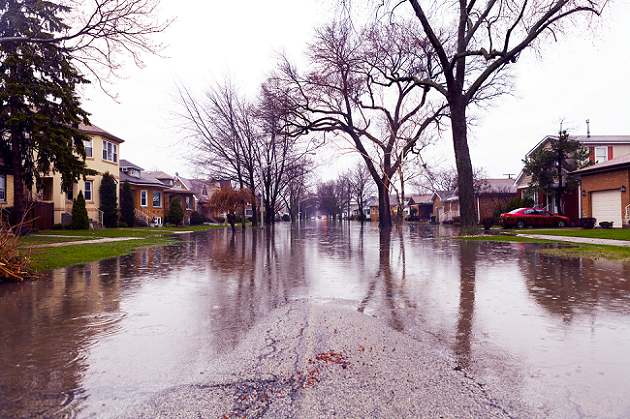 EPA is conducting research to identify and monitor microbial populations after major natural disasters using high throughput DNA sequencing.
Public health is impacted by severe storms, increased flooding, and wildfires. The aftermath of these events leads to higher incidence of respiratory problems including asthma, which might be associated with exposure to microbiological pollutants such as fungus and bacteria. These pollutants are naturally occurring in the air, water and soil, but get disturbed during extreme weather events or other natural disasters and can grow on wet building materials that are prone to microbial growth. In addition, fungus and bacteria can be carried to different locations by ash from wildland fires or wind.  
In one study, volunteers from environmental justice communities will be asked to monitor the indoor microbiome populations in their homes. The data will be used to compare microbial populations before and after remediation of flooding events including those occurring after natural disasters. Research includes a citizen science project to characterize fungal and bacterial microbiomes in environmental justice communities that are susceptible to flooding. This project includes communities located in Caño Martin Peña, San Juan, Puerto Rico
Another research project is characterizing the fungal and bacterial microbiome in the ash of prescribed fires to provide an assessment of the possible impacts on human health and the environment from wildfires. The characterization of the microbial populations in the ash from the smoke plume and the air will be done using culture-independent molecular technologies. The science is leading to a better understanding of how fungal and bacterial populations impact indoor and outdoor environments after major natural disasters and is contributing to the development of remediation technologies to mitigate unhealthy environments. 
Related Links:
Source Characterization, Emissions, Fate and Transport of Air Pollutants in the Indoor Environment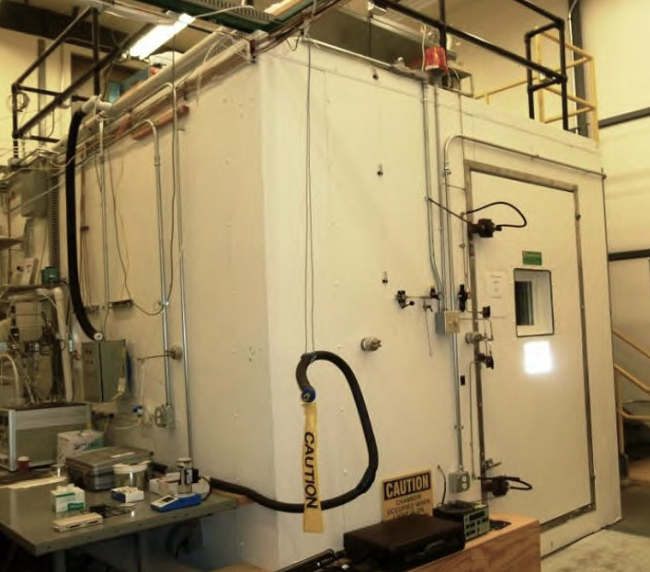 Large chamber used to study indoor air pollution at EPA's laboratories in Research Triangle Park, North Carolina.Researchers are developing new approaches and methodologies to better identify and quantify sources of indoor air pollution and understand the transport mechanisms from the source, such as a building material, to the air and onto airborne particles or interior surfaces. The new approaches, experimental methods, and technologies are providing occurrence data and, in some instances, quantitative measurement data across thousands of poorly studied compounds.
Many of EPA's priority pollutants, including formaldehyde, per- and polyfluoroalkyl substances (PFASs), polychlorinated biphenyls (PCBs), phthalates, and flame retardants, are released from a vast number of building materials and consumer products and transported within the indoor environment.
Under the Toxic Substances Control Act (TSCA), EPA is working to reduce risks associated with exposure to chemicals in commerce, the environment, products and food using high-throughput, risk-based evaluation methods. These methods include chemical safety informatics, computational toxicology and exposure, and complex systems science.
Research results will refine and improve high-throughput modelling of chemical exposure, especially for exposure pathways with limited data that characterize emissions from the source and/or contact with the receptor and for data poor parameters. The research activities support EPA, states, tribes and local agencies to review existing risk assessments and make policy decisions to minimize exposure and protect human health and the environment from thousands of existing and emerging chemicals indoors.