Webinar--Communicating Air Quality During Fires: the Science Behind the AirNow Sensor Data Pilot
Details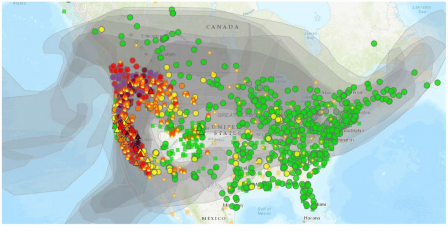 AirNow Fire and Smoke MapREGISTER for the Free Webinar Now!
The U.S. Environmental Protection Agency (EPA) and the U.S. Forest Service (USFS) conducted the AirNow Sensor Data Pilot during the 2020 fire season to provide the public with air sensor information on the air pollutant, fine particulate matter (PM2.5), especially during smoke events from fires. The sensor data is shown on the Fire and Smoke Map, part of the popular AirNow.gov website.
The air sensors are among several new additions to the Fire and Smoke Map, made possible with innovative technical approaches developed and applied by EPA to compare sensor data with data from regulatory grade monitors and temporary monitors provided by EPA, USFS, states, tribes and local air quality agencies. This webinar will provide an overview of the AirNow Sensor Data Pilot and the development of the U.S.-wide correction equation for PurpleAir PM2.5 sensor data and its appropriateness for correcting PM2.5 measurements during smoke events.  
Agenda
Welcome and Introduction, Tim Watkins, Director, EPA's Center for Environmental Measurement and Modeling (CEMM)
Adding Low-Cost Sensor Data to the AirNow Fire and Smoke Map, Ron Evans, EPA's Office of Air Quality Planning and Standards (OAQPS) and Sim Larkin, U.S. Forest Service
Technical Overview of the Development and ​Performance Validation ​of U.S.-Wide Correction Equation ​for PurpleAir Sensor Data, Drs. Karoline Johnson Barkjohn, Amara Holder, and Andrea Clements, EPA's Office of Research and Development (ORD)
Q&A
---
A link to attend this webinar will be sent with the registration confirmation email and a reminder email before the event. If you do not receive these emails, please check your junk or spam folder. If you have any problems with registration or joining the webinar, please contact: Rucker.Annie@epa.gov. 
Event Type
Webinar