Wildfire Study to Advance Science Partnerships for Indoor Reductions of Smoke Exposures
On this page: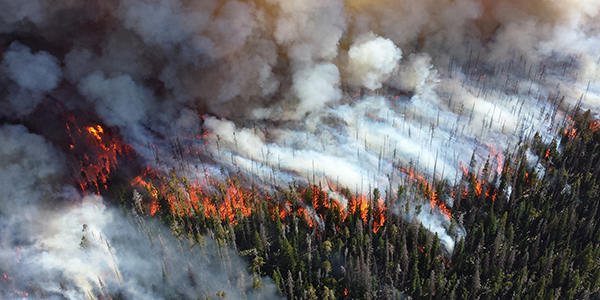 Wildfire smoke can infiltrate indoors, emphasizing the importance of creating clean air spaces that effectively reduce smoke exposures. To fill knowledge gaps about public buildings or facilities where people congregate during smoke episodes, EPA scientists are working with community and tribal partners in Montana and California to study how air cleaning and ventilation practices impact indoor air quality during wildfire events. In addition, they are interested in more information about technologies people can use to provide cleaner air spaces in their homes. Many communities may be exposed to smoke from wildland fires, including wildfires and controlled burns, for days, weeks, or even months each year.
Smoke is made up of a complex mixture of gases and fine particles produced when wood and other organic materials burn. The biggest health threat from smoke is from fine particles, also known as fine particulate matter or PM2.5. These microscopic particles can penetrate deep into your lungs. Exposure to wildland fire smoke is associated with health effects including exacerbation of asthma and chronic obstructive pulmonary disease (COPD), bronchitis, and pneumonia. Less certain, although the evidence is now building, are data linking wildland fire smoke exposure to increases in cardiovascular mortality and morbidity.  
Certain individuals within the general population may be at increased risk of experiencing health effects from wildland fire smoke exposures. These groups include children, older adults, and persons with pre-existing lung or heart disease.  
A common recommendation during smoke events is to reduce exposure by going indoors away from the smoke.  Information on actions to take before, during and after a wildfire are available on EPA's online Smoke-Ready Toolbox for Wildfires. 
Scientists are partnering in a study with the Missoula City-County Health Department in Montana, University of Montana, and the Hoopa Valley Tribe in California, to measure air pollutants during periods when smoke episodes are anticipated.  Called the Wildfire- Advancing Science Partnerships for Indoor Reductions of Smoke Exposures (ASPIRE) Study, the science team is analyzing data collected in Missoula and Hoopa to compare indoor and outdoor PM2.5 concentrations and develop strategies for reducing indoor pollutant concentrations in public buildings during wildland fire smoke events.
Researchers hope to learn more about how wildfire smoke and other sources of air pollution impact indoor and outdoor air quality, and how these impacts vary throughout the year. Additional components of the project will include laboratory evaluations of air cleaning technology performance under wildfire smoke conditions, and exploration of new ideas for innovative air cleaning approaches. The results can help local officials, building owners, and the public identify actions they can take to reduce health risks during smoke episodes.
This project is part of an initiative that emphasizes working directly with stakeholders to develop solutions to public health and environmental concerns. The research has involved local partners from the beginning to identify what information they need to effectively communicate actions that building owners and the public can take to reduce public health risk during smoke episodes. The research findings are expected to inform how communities prepare for wildfire smoke and expand our understanding of the impact of building characteristics and ventilation systems on  indoor air quality. This project is designed to serve as a model for future community-based research on how to engage partners from the start of a research project. 
The research questions for this study are:
How effective are air filtration systems during smoke events?

What are the concentrations of PM2.5 indoors and outdoors?
How does filtration effectiveness vary by outdoor concentration and type of air handling system?

How effective are portable air cleaners in reducing PM2.5 concentrations?

What operation and maintenance factors are important in air cleaner effectiveness?

What innovative approaches can help reduce wildfire smoke exposures?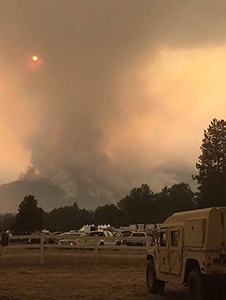 Wildfire smoke from Lolo Peak Fire, MT 2017; Photo courtesy of USDA
New air measurement technology has recently been developed that allows for measurements of PM2.5 using very small sensors. Research has shown that these sensors typically track increases and decreases of PM2.5 concentrations well. EPA researchers selected an air sensor which relies on an optical detection method and collects a data point every two minutes. The sensors were co-located with regulatory grade reference monitors to evaluate their accuracy and develop a correction equation prior to being moved to specific study locations.
In 2019, researchers began conducting field monitoring of PM2.5 concentrations inside and outside of commercial and public buildings in Missoula and Hoopa to understand real-world variation under typical ambient conditions and opportunistically when smoke events occur. The work is continuing. 
In addition to stationary monitoring, researchers are using mobile monitoring equipment – an air sampling package the size of a brief case that can be mounted to any vehicle – to map outdoor smoke concentrations and observe how concentrations vary when smoke funnels into mountain valleys and surrounding areas. 
A complementary EPA laboratory study will be conducted to evaluate the effectiveness of portable air cleaners and air filtration systems in removing PM2.5  and other pollutants from indoor air using simulated smoke  at concentrations found near wildfires.
The research team's findings will be shared with the local and tribal partners and published in the peer-reviewed literature.
Study Location: Missoula, Montana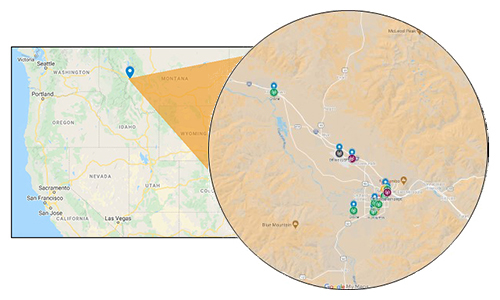 Missoula sampling locations 2020Missoula was selected as a study location due to an extreme smoke season in 2017, and the local health department's enthusiasm and dedication to improve understanding of clean air spaces within their community. EPA scientists partnered with the Missoula City and County Health Department (MCCHD), University of Montana, U.S. Forest Service Fire Sciences Laboratory, and Climate Smart Missoula to design and implement the pilot study.
Missoula partners and EPA Wildfire ASPIRE Study scientists focused on public and commercial buildings used by larger numbers of people during fire season such as fitness centers, museums, senior centers, and office spaces. MCCHD worked with property owners to obtain site permission, plan specific locations inside and outside for placing air measurement equipment, identify points of contact who would be available throughout the summer to coordinate, and to collect monitoring data.
The Missoula field study includes measuring air quality during two wildfire seasons. The first wildfire season in 2019 included measurements at 18 buildings from late July to early September. During this period, there were two prescribed fire events in August.
A second season of field testing began in June 2020, building on lessons learned from the previous year's testing, which include converting the sensors to automatic data reporting , expanding sampling to two nearby towns to potentially capture more smoke events; extending the timeframe of measurements into the fall to potentially capture more smoke events; and increasing the diversity of buildings monitored.
Study Location: Hoopa Valley Tribe, California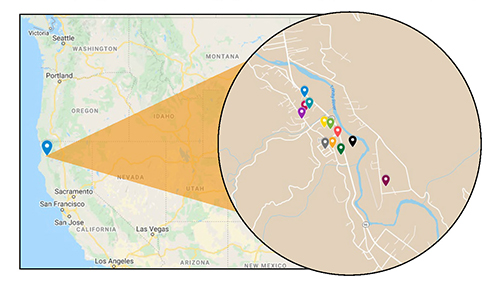 Hoopa sampling locations 2020Hoopa was selected as a study location due to the risk of wildfire smoke impacts extending from summer into the late fall, and wood smoke impacts and frequent atmospheric inversions during winter, which traps air pollution close to the ground. If the air is stagnant for too long, air pollution will accumulate. EPA Wildfire ASPIRE Study scientists chose to partner with the Hoopa Valley Tribe and the Tribal Environmental Protection Agency after the tribe expressed an interest in participating in the project to learn more about clean air spaces in their community.
At the Hoopa Valley Tribal Reservation, air sampling has been conducted on a continual basis since early October 2019. The sensors will stay in place at 11 different buildings for a full calendar year to capture smoke episodes and other causes of heightened PM2.5 concentrations from emissions from woodstoves and outdoor burning as well as atmospheric inversions. The field study includes fewer sampling sites than Missoula given the overall small geographic area and population size in Hoopa Valley.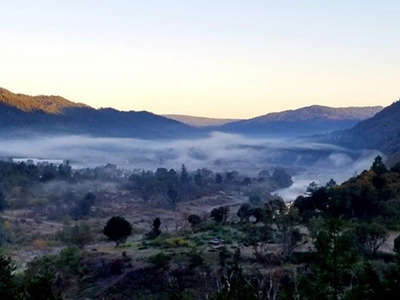 Wood burning smoke in Hoopa, CA; Photo courtesy of Brian McCaughey 
Laboratory Study on Air Cleaning Technology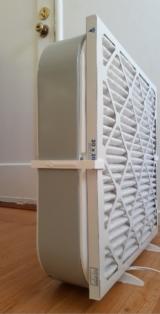 An example of a DIY air cleaner made
with an air filter clamped onto a box fan.A complementary study is being carried out in the laboratory in Research Triangle Park, North Carolina, to learn more about how effective air cleaning technology is for reducing wildfire smoke indoors under real-world conditions. Scientists will evaluate portable air cleaners, ranging from a Do-It-Yourself (DIY) air cleaner composed of a box fan with attached HVAC filter to commercial HEPA air purifiers. In evaluating DIY and prototype solar air cleaners, EPA is partnering with Underwriter's Laboratory to conduct safety evaluations prior to testing the air cleaners under simulated smoke conditions. 
The cleaners will be evaluated for their effectiveness at removing PM2.5 and other toxic pollutants, as well as their ease of use and cost to operate. Wood, tree litter, and duff collected from the forest surrounding Missoula will be burned to create simulated wildfire smoke. The air cleaners will be operated under different use scenarios such as varying fan speed or  filter dirtiness, and placement in the room at moderate and high concentration smoke. These experiments will help researchers understand the range of effectiveness that may be achieved using these air cleaner technologies to reduce smoke exposure and best practices for their use.