Air Sensor Toolbox: Announcements
October 2020
Study Published on Field Evaluation of Low-Cost Particulate Matter Sensors for Measuring Wildfire Smoke
In the past few years there has been a rapid increase in commercially available low-cost air quality sensors. The increasing popularity of these sensors is demonstrated by widespread use in many parts of the U.S. Due to the large gaps in the ambient monitoring networks, low-cost sensors are also being turned to for information on wildfire smoke. The objective of this study was to identify commonly used low-cost PM sensors and evaluate their performance to wildfire smoke. Three different types of sensors were collocated with reference monitors near wildfires and prescribed fires in the U.S. All the sensors showed a linear response but required a correction to provide accurate PM2.5 concentrations, even during times of heavy smoke. The results, published in the journal Sensors, show that low-cost sensor data with appropriate correction may be used to provide information on wildfire smoke air quality impacts.
August 2020
AirNow Sensor Pilot Announced
EPA and the U.S. Forest Service have launched a pilot project to show data from low-cost sensors on the Fire and Smoke Map on the AirNow.gov website. The goal of the pilot is to provide people with additional information onI air quality during wildfires, especially in areas where AirNow monitors or Forest Service temporary monitors may not exist.
Public use of low-cost sensors is increasing; however, data from these sensors is not comparable to the regulatory-grade monitors used on AirNow. The pilot project uses an EPA scientific equation to "correct" the sensor data, so users can compare sensor information and monitor information side by side. EPA and the Forest Service may update the map several times during the pilot, as the two agencies work to have an upgraded version available to the 2021 fire season. 
Technical Approaches for the Sensor Data on the AirNow Fire and Smoke Map
Science Matters Newsletter article on research to improve accuracies of air sensors  
March 2020
Educational Videos on Air Quality, Health and Lower-cost Sensors Released
EPA has developed a series of educational videos designed to give the public information about air quality, health and lower-cost sensors. The videos are available in English and Spanish and can be used to learn how EPA collects and uses air quality data, how air quality health risks are communicated and how to interpret data collected using air sensors.
Many people are looking for credible air quality information to help reduce the risk from air pollution and to protect public health in their communities. Air sensors are usually lower in cost, portable, and generally easier to operate than the regulatory-grade air pollution monitors used in the United States to understand air quality conditions.
With increased availability of air sensors, thousands are now in use by individuals, community groups, health organizations and others. The popularity of these devices, however, has resulted in many questions about how to use and communicate the sensor data that is collected during monitoring.  The videos offer information to address common questions about these devices.
Watch the Videos and please share with others 
August 2019
Presentations from Workshop on Performance Targets for Low-cost Air Sensors on July 16-17 Now Available 
EPA conducted the 2019 "Deliberating Performance Targets for Air Quality Sensors" Workshop on July 16-17 in Durham, North Carolina, and by webinar to address the need for specific performance requirements for low-cost air quality sensors. The goal was to obtain a variety of viewpoints from developers, manufacturers, citizen scientists, air quality managers and others on the establishment of non-regulatory performance targets for four regulated air pollutants --carbon monoxide (CO), nitrogen dioxide (NO2), sulfur dioxide (SO2), and particulate matter with aerodynamic diameters of 10 micrometers and smaller (PM10).
---
April 2019
Summary Article Published for 2018 Deliberating Performance Targets Workshop
EPA held an international two-day workshop in June 2018 to deliberate possible performance targets for non-regulatory fine particulate matter (PM2.5) and ozone (O3) air sensors. The need for a workshop arose from the lack of any market-wide manufacturer requirement for documented sensor performance evaluations, the lack of any independent third party or government-based sensor performance certification program, and uncertainty among all users as to the general usability of air sensor data.
A multi-sector subject matter expert panel was assembled to facilitate an open discussion on these issues with multiple stakeholders. This summary provides an overview of the workshop purpose, key findings from the deliberations, and considerations for future actions specific to sensors. Important findings concerning PM2.5 and O3 sensors included the lack of consistent performance indicators and statistical metrics as well as highly variable data quality requirements depending on the intended use.
Read the workshop summary article, published in Atmospheric Environment: X
---
March 2019
Citizen Science Quality Assurance & Documentation Handbook Released
Learn how to start or plan a successful citizen science project that provides high quality data. EPA has released a new Citizen Science Quality Assurance & Documentation Handbook that describes best management practices for training volunteers to collect  high quality environmental data and is useful for reporting to the public and government agencies. The Handbook has two companion documents, Templates for Citizen Science Quality Assurance and Documentation and Compendium of Examples. The Templates document provides instructions, tables and questions, and the Examples provide specific examples of quality assurance documentation. Together, these documents will help your organization complete a Quality Assurance Project Plan and provide information for data users to evaluate the quality of data collected by citizen scientists.
Handbook for Citizen Science Quality Assurance and Documentation (Released March 2019)
---
December 3, 2018
Selecting Lower-Cost Air Sensor Monitors
EPA developed the Air Sensor Guidebook to assist those interested in using portable and lower-cost sensor technologies for air quality measurements. This flyer provides a short reference guide of key considerations outlined in the handbook that can help individuals with making decisions about selection and use of an air sensor monitor.  
Six Questions to Ask Before You Buy a Lower-Cost Air Sensor Monitor (PDF)(1 pg, 500 K)
---

October 22, 2018
Literature review from the "Deliberating Performance Targets for Air Quality Sensors" Workshop Now Available
EPA released this report with the objective to evaluate peer-reviewed literature and other sources to identify performance attributes and metrics needed to obtain air monitoring data that are fit for a specific purpose or application. This literature review focused on reports associated with ambient and near-source air monitoring for particulate matter (PM2.5 and PM10), carbon monoxide (CO), nitrogen dioxide (NO2), sulfur dioxide (SO2), and ozone (O3).
---
August 9, 2018
Presentations from the "Deliberating Performance Targets for Air Quality Sensors" Workshop Available
On June 25-27, 2018, in Research Triangle Park, NC, EPA held a workshop and webinar to solicit individual stakeholder views related to non-regulatory performance targets for sensors that measure fine particulate matter (PM2.5) and ozone in the United States. Through on-site and webinar discussions, national and international participants addressed a range of technical issues involved in establishing performance targets for air sensor technologies.
---
August 8, 2018
Results from CAIRSENE-Denver Study Available
Results from the CAIRSENSE-Denver study have been added to the Sensor Performance Evaluation webpage. 
---
May 3, 2018
Presentation from "Emerging Sensor Technologies 2014-2018 Progress Report" Webinar Avaliable
On April 30, 2018, EPA researchers held two webinar sessions to present general findings across a range of air sensor research activities from 2014-2018. The webinar covered topics including sensor evaluations, data analytics, ammonia detection, citizen science, and detection of select emission sources. 
Presentation: New Paradigm for Air Pollution Monitoring 2014-2018 Progress Report
---
April 23,2018
Village Green Monitoring Station Manual/Video Available
A Village Green station manual and training video are now available online that provide information on how to design, construct, operate and maintain a Village Green station, which provides real-time monitoring of local air quality for use by communities.
Learn more about the Village Green Project
---
February 5, 2018
New Guide and Analysis Tool Released to Help Evaluate and Interpret Air Sensor Data
EPA has developed a guide and analysis tool for citizen scientists to evaluate the performance of low-cost air sensors and interpret the data they collect to help learn about local air quality. While EPA developed both of these resources to be suitable for citizen scientists and communities, they are also useful to the broader air sensor user community, both experts and non-experts.
Learn more and download the guide and analysis tool
---
January 11, 2018
EPA-Developed Low-Cost Sensor Pods Tested in Southern California
The U.S. Environmental Protection Agency, in collaboration with the South Coast Air Quality Management District's (SCAQMD) Air Quality Sensor Performance Evaluation Center (AQ-SPEC), deployed custom-built sensor pods at nine locations throughout southern California from January 2017 to April 2017 to evaluate their performance under "real-life" conditions. The goal of this project was to characterize the performance of these newly developed pods and better understand their potential applications for community monitoring.
---
December 21, 2017
Slideshow Features New Monitoring Technology 
What do an electric car, a portable lunchbox-sized monitor and solar-powered air sensors have in common?  They are all being used in a year-long study to investigate local air quality in three neighborhoods in Kansas City where residents are exposed to air pollution from highways, railways and industry. A new slideshow provides information about the innovative monitoring technology being used in the study.  
EPA researchers launched the year-long study in October that uses stationary and mobile measurement technologies to monitor air quality in the community.  Local students are participating in a citizen science project for the study using the AirMapper portable monitor developed by EPA.  Researchers conducting the study, named the Kansas City Transportation and Local-Scale Air Quality Study (KC-TRAQS), will share results with residents, students and others interested in the project
View the new slideshow.Exit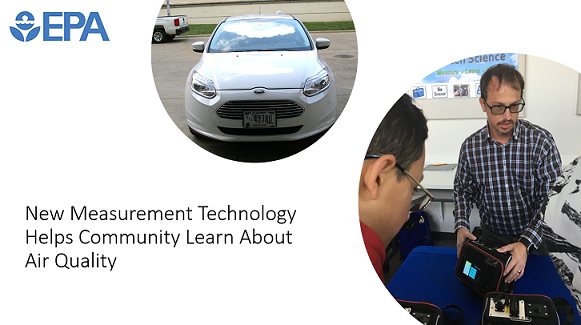 ---
July 17, 2017
UN Prototype Air Sensor Unit Evaluated
In response to  a cooperative research and development agreement with the  United Nation's Environmental Programme, EPA scientists conducted a 30-day performance evaluation of the UN's prototype multipollutant air sensor pod. Data were collected and analyzed for the performance characteristics of the pod including its particulate matter sensor. The activity is part of ongoing research to evaluate and develop Next Generation air sensor technology. Results of the UN monitor study are described in the Performance Evaluation of the United Nations Environment Programe Air Quality Monitoring Unit Report. Other air sensor evaluations are available on the toolbox. 
Air sensor performance evaluations
---
April 6, 2017
Announcing the Wildland Fire Sensors Challenge
EPA and five other federal agencies have announced a Wildland Fire Sensors Challenge seeking an accurate, lower-cost, and low-maintenance air quality monitoring system that can be used during a wildfire or controlled fire. The data provided by the sensor system will help federal, state, local and tribal agencies protect the health of first responders and communities affected by the smoke.
For more information, visit: www.challenge.gov/challenge/wildland-fire-sensors-challenge
---
December 16, 2016
Slideshow Highlights Air Sensor Science and Education at EPA
EPA's scientists and engineers are pushing the scientific frontiers in low-cost and portable air sensor monitoring that is engaging communities to learn about their air quality. At the same time, they are inspiring young people to learn what science can do to protect the air we breathe. A slideshow highlights accomplishments from 2012-2016.
Air Sensor Science and EducationExit
---
December 15, 2016
EPA Announces Smart City Air Challenge Awardees
EPA has selected the City of Baltimore and the Lafayette, Louisiana, Consolidated Government as awardees of the Smart City Air Challenge. The challenge encourages communities to install hundreds of air quality sensors and share the data with the public. The awards will enable the communities to deploy hundreds of air quality sensors and make the data public. 
---
December 13, 2016
NACEPT 2016 Report: Environmental Protection Belongs to the Public, A Vision for Citizen Science at EPA
The National Advisory Council for Environmental Policy and Technology (NACEPT) formally transmitted its report to the EPA on citizen science. In this report, NACEPT developed thirteen robust recommendations regarding actions that EPA should take in response to technological and sociological developments in the area of citizen science. The report urges EPA to embrace citizen science and capacity building initiatives that further advance the agency's mission of protecting the environment and human health.
---
November 17, 2016
Results available for commercial air sensor evaluations
A study that evaluated the performance of 11 commercial air sensors has been published in the journal Atmospheric Measurement Techniques. Researchers compared the commercial devices with high-quality stationary EPA monitors to evaluate their ability to provide comparable data. They also evaluated the feasibility of deploying a local wireless sensor network. The sensors tested are listed in performance evaluation tables on the Air Sensor Toolbox web page.   
The paper is Community Air Sensor Network (CAIRSENSE) project: Evaluation of low-cost sensor performance in a suburban environment in the southeastern United States.  
---
November 4, 2016
EPA Installing Air Monitoring Stations at Memphis Area Transit Facilities
EPA announces a collaborative project with the Shelby County Health Department (SCHD) and the Memphis Area Transit Authority (MATA) that is field testing newly installed, lower-cost air pollution sensor pods in the Memphis, Tennessee area.  Air sensor pods have been installed at sixteen locations including seven SCHD locations and three MATA transit facilities. 
EPA's CitySpace research project is field testing these air sensor monitors to understand how this emerging technology can add valuable information on air pollution patterns in neighborhoods. The sensors are being installed and data will be captured over a six month period concluding in February 2017.
---
August 30, 2016
EPA offers up to $80,000 to communities to develop air sensor data best practices
EPA is challenging communities across the country to collect data using hundreds of air quality sensors as part of the Smart City Air Challenge. The agency is offering up to $40,000 apiece to two communities to help them develop and implement plans for collecting and sharing data from air quality sensors. Application Deadline: October 28, 2016. Announcement of Winners: Around December 1, 2016
To learn more, visit the Smart City Air Challenge website.
---
August 9, 2016
Research projects to study how communities use air sensor technology 
Six research organizations have received funding from EPA's Science to Achieve Results (STAR) program to develop and use low-cost air pollution sensor technology, while engaging communities to learn about their local air quality. 
The research teams will work with other organizations and community groups to explore how scientific data can be effectively gathered and used by communities to learn about local air quality and evaluate the accuracy of data produced by sensors and sensor networks. For example, one project will compare the sensors with high-quality data from existing monitoring technology that are used to support air quality regulations.
Air Pollution Monitoring for Communities Grants
---
RETIGO Training on Aug. 31, 2016
A live training seminar will be held Aug 31, 2016 at 1 p.m. (EDT) that provides an introduction to the Real-Time Geospatial Data Viewer.  This is an interactive web platform where you can upload field data that you have collected and explore it on multiple graph interfaces. 
---
Spring 2016
Air Sensor Evaluation Study Under Way
EPA is conducting laboratory and field-based evaluations of air sensors to encourage the development of accurate and reliable monitoring devices in the marketplace for the public. A new round of testing began in spring 2016 at EPA's main research campus in Research Triangle Park, NC.