Educational Resources Related to Air Sensor Technology
Air sensor technologies provide many opportunities for educational enrichment on the sensors themselves as well as air quality, human health, the environment, and other related topics. Educational activities and curriculum developed by EPA and with collaborators are available for use by the public. These resources are ideal for use in the classroom, community workshops, or other educational settings.  
Build your Own Particle Sensor Kit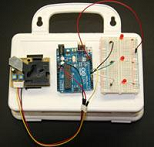 Build your own particle sensor kit. Particle pollution, known as particulate matter (PM), is one of the major air pollutants regulated by EPA to protect public health and the environment. A PM air sensor kit has been developed by EPA researchers as an educational tool to teach the public about air quality and air science. This kit can be put together in under an hour and gives hands-on experience with electronics, but is not intended to be used as a longer-term monitoring device. This resource provides instructions on buying the parts for the kit, step-by-step instructions for assembly, and a lesson plan. The kit and additional information can be found here:
Build your own particle sensor information.
AirMapper and RETIGO Lesson Plans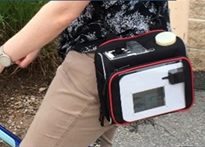 Researcher collecting measurements using AirMapper.The AirMapper is a custom-built portable air monitoring device that was developed by EPA. The device measures fine particulate matter (PM2.5), carbon dioxide (CO2), and other parameters including temperature, humidity, and noise. Data collected on the AirMapper can be downloaded and viewed using the RETIGO web-platform. Six lesson plans and five classroom activities were developed based on the AirMapper and RETIGO. These resources are designed for upper elementary and middle grades.
Additionally, a manual for the AirMapper has been developed for anyone who wants to build this device. The manual includes instructions on buying the parts for the device, assembly, and operation.
AirMapper Design, Operation and Maintenance Report, published in April 2020. 
Real Time Geospatial Data Viewer (RETIGO)
To obtain the lesson plans, contact Rachelle Duvall at duvall.rachelle@epa.gov
Using Vegetative Barriers to Improve Air Quality – Activities and Lessons for K-5 Educators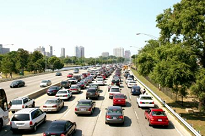 Vegetative barriers, which include trees and bushes, can help reduce pollution near busy highways and roads. EPA has been researching how vegetative barriers can improve air quality. EPA developed custom-built air sensors that can be used to measure air quality to see the effects of vegetative barriers over time. As part of this research, K-5 lesson plans and activities have been developed that focus on air quality, air sensors, air pollution, and the impact of air pollution on human health.
For questions, contact Rebecca Dodder at dodder.rebecca@epa.gov
Los Angeles Library Loan Project – Air Quality Lesson Plans and Resource Guide
(Coming in 2020!)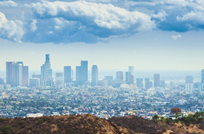 Coming in 2020 -- air sensors measuring fine particulate matter (PM2.5) will be available at select branches of the Los Angeles Public Library for free checkout, similar to checking out a book. As part of this program, three lesson plans and activities will be developed that are focused on air quality and involve the sensor used in this loan program. The lesson plans will contain an instructor guide, worksheets, and a short PowerPoint presentation for instruction in a classroom setting. A resource guide will also be made available that contains a list of educational activities related to air sensors and air quality.
For more information contact, Rachelle Duvall at duvall.rachelle@epa.gov or Andrea Clements at clements.andrea@epa.gov