EPA Air Sensor Research Overview
EPA conducts research to advance the development and application of air sensor technologies, with the goal of making them useful for a wide variety of non-regulatory applications. These include enhancing public information about air quality, understanding source emissions events, and exploring spatial and temporal air pollution variability.
Researchers are evaluating sensor technology, developing new integrated measurement solutions, applying sensors to meet specific research objectives, and exploring new strategies to analyze and interpret high time-resolution measurement data.
The objectives are to: 
Enhance current monitoring activities by states, tribes and communities.
Provide new air quality data at the local level and near air pollution sources.
Improve access to air monitors for the public interested in conducting their own air quality measurements.
Provide new strategies to characterize air quality and air pollutant emissions.
Recent research projects are building on EPA's research capabilities including novel laboratory infrastructure, prototype development and field study implementation.
Research Project Highlights
Sensor Network Deployment in Phoenix, Arizona
Beginning in 2018 and continuing in 2020, EPA and Maricopa County in Arizona are collaborating to implement a research study to test and deploy a network of air sensors. The hot, dry, and dusty climate provides a unique testing condition for air sensor technology. Beyond evaluating sensors side-by-side with reference-grade monitors, the research study is exploring quality assurance methods for air sensors deployed in a network and using the sensor data to better understand the spatial variability of fine particulate matter (PM2.5) in the Phoenix area.
Related Resources:
ScienceMatters Article on the Air Sensor Project in Phoenix
Long-Term Performance Assessment of Air Sensors
Researcher inspecting internal components of air sensor.
Understanding how air sensors perform over long time periods, exceeding one year of use, and over a variety of environmental conditions is a research priority for EPA. Researchers  are collaborating with a number of state, local and tribal monitoring agencies across the United States to locate sensors adjacent to regulatory-grade monitors for long-term performance evaluation. The long-term performance project began in summer 2019 and will continue for at least a year. 
 Related Resources:
ScienceMatters Article on the Long-Term Performance Project
Development and Application of Fenceline Sensor Systems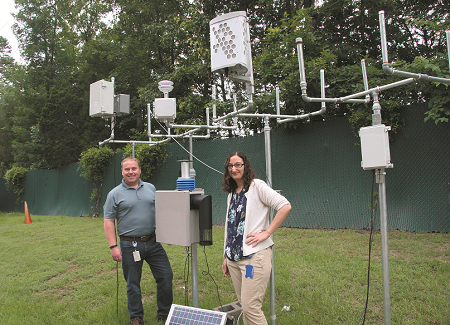 Researchers work on fenceline air monitoring instruments.
A growing application of sensor systems is to detect emissions from sources either within a facility or nearby. This form of monitoring can reduce operational costs for industrial facilities and protect the nearby public. EPA scientists developed a customized sensor system called the SPod, which is a small and portable monitoring system that operates on solar-power, allowing for ease of deployment and operation.
Related Resources:  
ScienceMatters Article on Fenceline Applications of Sensors
Rubbertown Demonstration Project
Testing and Using Sensors for Wildfire Smoke Characterization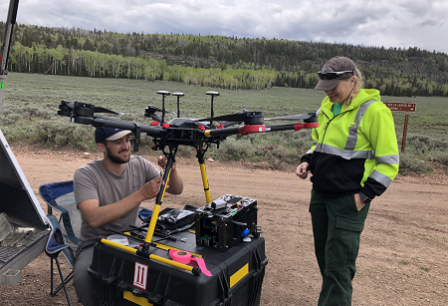 The Kolibri air sensor, a lightweight sampler developed by EPA researchers, samples chemical, particle, and biological pollutants as it is carried through smoke in an unmanned aircraft system.

Wildland fire smoke episodes are of significant concern in many areas of the United States. EPA scientists collaborate with other federal organizations, state, local and tribal agencies, as well as the private sector, to test and deploy new monitoring methodologies to characterize smoke. This research has included a Wildland Fire Sensor Challenge, development and testing of methods with Air Resource Advisors under the Interagency Wildland Fire Air Quality Response Program, and field campaigns characterizing smoke emissions and transported smoke.
Related Resources:
ScienceMatters Article on Wildfire Smoke Field Studies Using Aerial and Ground-based Monitors
Winners of the Wildland Fire Sensors Challenge