Learn About Asbestos Production and EPA's Role Around Ambler, Pennsylvania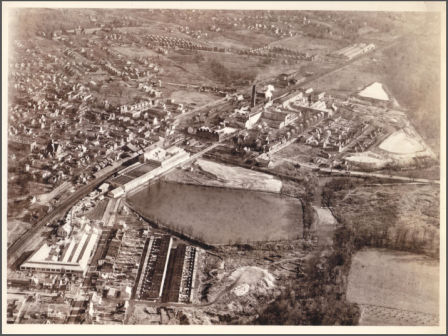 Aerial View from the 1930s of the former Keasbey and Mattison manufacturing facilities and waste disposal areas.On this page:
History of Asbestos Production
For six decades from the late 19th century, asbestos production was a vital part of Ambler's local economy. Both the BoRit Asbestos and Ambler Asbestos Piles Superfund Sites are a result of disposal operations by three asbestos product manufacturing companies from the late 1800's through 1974. Historically, the Ambler Asbestos Piles Superfund Site was owned by Keasbey & Mattison (K&M) Company, a manufacturer of pharmaceuticals, such as Milk of Magnesia, and asbestos insulation products. K&M owned the site and used it for disposal of its process waste and other products from the late 1800's.
In 1962, K&M ceased operations and Certainteed Corporation and Nicolet Industries purchased different portions of the K&M facility and continued disposal practices. Certainteed Corporation primarily manufactured asbestos-cement pipe, and Nicolet Industries manufactured automobile parts, laboratory table tops and other products. Certainteed Corporation ceased operations in 1974, and Nicolet Industries operated at least until October 1987, producing only asbestos-containing rubber gaskets by 1987. Dumping of asbestos-containing waste materials began in 1930's and continued through 1974.
EPA's Role in Assessment and Cleanup
EPA became involved with the Ambler Asbestos Piles Superfund Site in the early 1970's in response to public complaints of air and water contamination. A field survey was conducted by EPA and Pennsylvania Department of Environmental Resources, now known as Pennsylvania Department of Environmental Protection (PADEP), in December 1971. In October 1973, EPA conducted ambient air monitoring, with concentrations above 100ng/m3 recorded on the piles and as high as (1563 ng/m3) around the settling lagoons.
In 1983, EPA's Emergency Response Team and PADEP conducted an initial Superfund Site Inspection. Based on sampling performed during the inspection, the Centers for Disease Control issued a Public Health Advisory concerning the Site. 
Shortly thereafter, EPA determined that the Site posed an imminent and substantial danger to public health and welfare, and made the decision to proceed with a Superfund removal response action in 1984. Two additional removal actions were conducted in 1985 and 1990 to improve the vegetative cover and fencing. The Site was officially placed on the National Priorities List of Superfund Sites on June 6, 1986.   
EPA and PADEP conducted sampling in late 1983 and in the spring of 1984 at the BoRit Asbestos Superfund Site. Asbestos, specifically chrysotile, was identified as the primary contaminant on the Site. EPA performed a preliminary assessment of the BoRit Asbestos Pile parcel in March 1987. For approximately 20 years, PADEP managed the parcel according to National Emissions Standards for Hazardous Air Pollutants regulations, which require the parcel to be fenced, have a vegetated cover, and have signs indicating the presence of asbestos. 
In April 2006, due to changing conditions at the Site, EPA's Site Assessment Program conducted sampling and detected asbestos in the air, soil, surface water, and sediments at the Site. EPA reevaluated the BoRit parcels in September 2008, prompting proposal to the National Priorities List of Superfund Sites on September 3, 2008, which led to its final listing on the NPL on April 9, 2009.
For more information on Ambler, Pennsylvania, learn about how EPA is Working with Our Partners.