EPA's 2020 America Recycles: Innovation Fair
EPA's 2020 America Recycles: Innovation Fair will open on November 16, 2020 at 1:00 pm Eastern. The deadline for applying to exhibit has passed.
On this page:
---
About EPA's America Recycles 2020: Innovation Fair
The America Recycles: Innovation Fair showcases recent advances in recycling technology, product development, and materials usage. Exhibitors will display new recyclable products, goods made from recycled content, innovative education and communication methods, or materials that promote more effective recycling, recycling and manufacturing research, and new technologies that are advancing recycling today and into the future.
The goal of the Innovation Fair is to connect the public and potential investors with recycling innovators, thereby spurring market development and adoption of new technologies that increase recycling rates, as well as create new products comprised of post-consumer recycled content.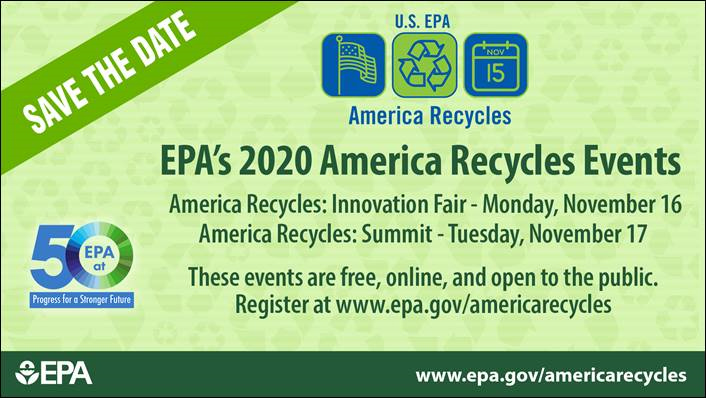 New in 2020
This year, the America Recycles: Innovation Fair plans to showcase exhibitors online via virtual exhibit halls.
The Innovation Fair is scheduled to take place on November 16, 2020 from 1:00-5:00 pm Eastern.
An interactive virtual platform will allow exhibitors to reach a broader audience.
The virtual exhibit halls are currently anticipated to be available for extended hours on November 16 and potentially the weeks following the event. More information is coming soon.
Registration for the event is free and open to the publicExit.
Read more about the 2019 EPA America Recycles: Innovation Fair.
Learn about the America Recycles Summit.
---
2020 America Recycles: Innovation Fair Exhibitors
| Organization Name | Brief Description of Innovation | Headquarters |
| --- | --- | --- |
| AMP Robotics | Artificial intelligence guided robotics | Louisville, CO |
| Arcadis | Artificial intelligence waste tracker for streets | Long Island City, NY |
| Battery Council International (BCI) and Essential Energy Everyday (EEE) | Infrastructure for lead battery recycling | Washington, DC |
| Better World Magic | Magic to inspire recycling | New Haven, CT |
| Bioko, LP | Animal feed created by upcycling food waste | Jurupa Valley, CA |
| Brightmark | Technology to recycle plastics 1-7 into new products | San Francisco, CA |
| C&D Recycling Association | Impact calculator and research to increase recycling in construction and demolition markets | Chicago, IL |
| City of Phoenix Public Works Department (PWD) | Digital education platform to help residents see inside a materials recovery facility and understand what is recyclable | Phoenix, AZ |
| Closed Loop Plastics | 3D printing material made from hard to recycle plastics | Long Beach, CA |
| Colgate-Palmolive | Recyclable toothpaste tube with open sourced technology | New York City, NY |
| Continuus Materials, LLC | Construction material made from hard to recycle plastics | The Woodlands, TX |
| Divert Organics | Aerobic digestion technology | Gwinn, MI |
| EcoRich Composting Solutions | Onsite commercial composters | Wharton, NJ |
| Environmental Paper Network (EPN) | Calculator for estimating life cycle impacts of various paper packaging | Asheville, NC |
| ERA Environmental Consulting, Inc. | Software for manufacturing facilities to reduce packaging waste | Saint Laurent, Canada |
| FABSCRAP | Infrastructure for textile recycling | Brooklyn, NY |
| Fire Rover | Remote fire prevention from lithium ion batteries and more in material recovery facilities | Ferndale, MI |
| Foodprint Group, Inc | Waste tracking tool for businesses | Brooklyn, NY |
| Frontline Waste Holding LLC | Technology that can turn non-recyclable (yet high BTU) waste into useful energy | DelRay Beach, FL |
| Institute of Scrap Recycling Industries, Inc (ISRI) | K-12 recycling curriculum and a certification program for paper-based packaging | Washington, DC |
| Intertape Polymer Group (IPG) | Recyclable shipping materials | Sarasota, FL |
| Lid Vizion, LLC | Website to educate consumers on recycling right, includes locations for disposing of hazardous waste | Pinecrest, FL |
| MariMatic Oy | Touchless recycling and waste collection system that uses underground vacuum tubes, thus increasing the quality of recyclable feedstocks and reducing emissions associated with trucking materials | Vantaa, Finland |
| Mattress Recycling Council (MRC) | Infrastructure for mattress recycling program | Alexandria, VA |
| MSW Consultants | Technology-driven recycling container monitoring programs | Orlando, FL |
| Mycocycle, Inc. | Mushroom technology being used to reduce toxicity at landfills to divert materials that would otherwise be wasted | Bolingbrook, IL |
| Nestle USA | 100% recyclable sleeve-labeled bottles for Starbucks creamer | Arlington, VA |
| Plastics Industry Association | Project to create new market for plastic recycling | Washington, DC |
| Public Bloc | Platform that automates the recycling marketplace by connecting buyers and sellers and tracks the distribution of recycled goods | Washington, DC |
| Recycle Coach | Platform that uses artificial intelligence for tailored messages and supports local U.S. governments to address contamination and recovery issues | Houston, TX |
| RecycleGo | Platform that uses blockchain and other technologies to increase recycling participation, product quality and sustainability throughout a product's life cycle | Irvington, NJ |
| Refresh Glass | Glassware created using automated technology and recycled glass bottles from restaurants | Tempe, AZ |
| Re-TRAC Connect | Free online program assessment and planning tool for municipal waste management agencies | Winnipeg, Canada |
| Revolution Company | Products created using plastic film and agriculture plastics | Little Rock, AR |
| Revolution Systems | Small system sorting unit that supports stadiums, small communities | Golden, CO |
| Solid Waste Association of North America | Research and education to support the solid waste industry | Silver Spring, MD |
| The Recycling Partnership | Initiative to make #5 plastics more widely recycled and accepted by facilities | Falls Church, VA |
| The Vinyl Institute | Pilot program to recover vinyl siding and roofing for reuse and recycling | Washington, DC |
| Think Zero LLC | Incentive program for janitorial staff to facilitate more recycling | New York City, NY |
| Urban Mining Northeast | Glass pozzolan in concrete, creating a market for glass and improving sustainability of cement | New Rochelle, NY |