AQS PEAT
PEAT is a tool that assists auditors in performing NPAP audits for sites.  Audits can be scheduled, performed and the results uploaded immediately to AQS.  All data is verified against AQS data and business rules to ensure the submitted data will be accepted by AQS.
PEAT has been designed to refresh all reference data and check and perform upgrades as they are released.  Applying the upgrades are very important since they will contain bug fixes and enhancements.
PEAT has been built using a universal model and will run on either the 32 bit version or the 64 bit version of Windows XP, Windows 7, Windows 8 and Windows 10.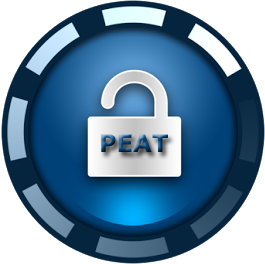 Installation instructions:
Click the PEAT Graphic to begin your download. You will be prompted to 'Open' or 'Save', select 'Save'. Once the download completes open the folder that you saved the zip file to. Right click on the zip file, at the popup menu select 'Winzip', from there select 'Unzip to here'. After unzipping the installation files launch 'setup.exe' to install PEAT. Click the 'Install' button. The setup program will install a shortcut on your desktop and automatically launch PEAT after the install has completed.
*** NOTE ***
You will need Administrator rights for the initial install of PEAT.
Upgrades do not require Administrator rights.