Central New Mexico Prepares for Climate Change in Its Long- and Short-Range Metropolitan Transportation Plan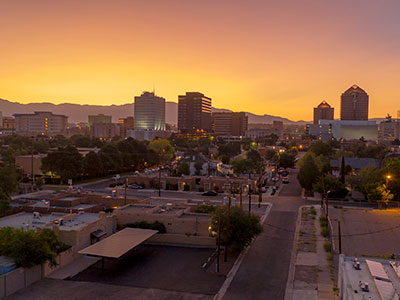 Central New Mexico, which includes Albuquerque, currently has a population of approximately one million people, and rapid population growth is expected in the coming decades. Increasing air temperatures and more frequent droughts are anticipated in the region due to climate change. The combination of population growth and more arid conditions is expected to negatively impact air quality through increased vehicle emissions and more frequent wildfires.
The Mid-Region Council of Governments (MRCOG) of New Mexico recognized the risks from climate change and consequently integrated climate considerations into transportation and land-use planning. After identifying potential climate impacts and emission reduction options in Central New Mexico, officials invited local stakeholders to participate on advisory committees and attend scenario planning workshops. MRCOG collaborated with federal agencies to use the workshop results as a basis for updating MRCOG's Long Range Transportation Plan: Futures 2040 Metropolitan Transportation Plan (MTP).
New Mexico's progressive planning requires the expansion of public transportation throughout the region and has increased funding to expand service connections. The goal is that 20% of all trips along high traffic corridors occur using mass transit by the year 2040. Additionally, the City of Albuquerque approved an ordinance requiring roadways to better accommodate pedestrians and bicyclists, which is likely to increase foot and bicycle traffic. Finally, MRCOG is only permitting projects that are consistent with the MTP – in other words, which take climate change, land use management, and population growth into consideration – to be funded through the region's Short Range Planning, Programming, and Implementation – Transportation Improvement Program (TIP).
How did they do it?

Applicable EPA Tools

Recognized climate risk and population growth as a vulnerability

MRCOG recognized the vulnerability of a rapidly expanding population to climate impacts such as wildfires and heat waves, drought, and decreased air quality.
During scenario planning, MRCOG received input from the US Department of Transportation, the US Environmental Protection Agency, the University of New Mexico, and other scientists as well as publicly available climate science to inform decision making.

EPA's Climate Adaptation staff developed a Community-Based Climate Adaptation Handout that helps communities identify how local government services may be vulnerable to changing climate conditions.

Identified adaptation and mitigation strategies and created local resources

Held advisory committees and workshops to engage and educate residents and stakeholders.
Developed a Futures 2040 Metropolitan Transportation Plan.
Made long range Metropolitan Transportation Plan publicly available online.
Required that all Short Range Planning, Programming, and Implementation Transportation Improvement Projects must consider climate change, land use, and population growth.
Provided climate change information, along with adaptation and mitigation strategies online.

EPA's Smart Growth program provides resources on how communities can implement smart growth strategies that provide co-benefits to air, water and public health.
EPA's Sustainable Transportation for a Sustainable Future webpage provides resources on methods and techniques communities can use to reduce vehicle emissions. 
Similar Cases and More Information
To read other similar case studies on how other communities are planning for future air quality read Salt Lake City, Utah Adapts to Improve Air Quality Through Smart Growth and California Prepares for Increased Wildfire Risk to Air Quality from Climate Change. For information on how air quality affects public health visit the Climate Adaptation and Public Health section of the Adaptation Resource Center.
---
References
The following links exit the site Exit