Climate Adaptation and Wetland Protection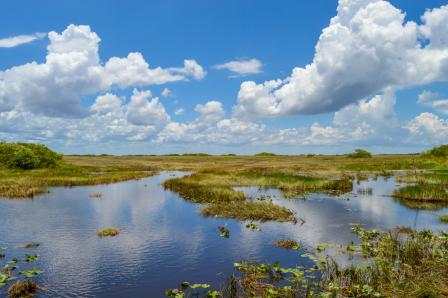 EPA works with local, state and tribal governments to restore and protect wetlands to support natural water resources. 
Sea-level rise, drought, and wildfires can all contribute to displacing wetlands.  Climate changes in combination with other stressors, such as land development, may further exacerbate the loss of wetlands.  
In some areas of the country climate changes, such as warmer temperatures, drought, and changing precipitation patterns can pose challenges for wetlands managers.  These climate changes can increase evapotranspiration and lead to water losses which wetlands managers will need to account for. Drought can also increase events such as wildfires which can alter water quality and the structure and function of wetlands and watersheds. Wetlands loss can also lead to reduced habitat for fish and wildlife and worsen existing shifts in species ranges.
Drought and Wildfires
Sea level rise will threaten to inundate or displace some coastal wetlands. Some coastal wetland types that may be vulnerable to climate change include salt marshes, bottomland hardwood swamps, fresh marshes, mangrove swamps, and shrubby depressions known in the southeast United States as "pocosins." Both tidal and non-tidal wetlands may be at risk from sea-level rise.  Sea-level-rise may introduce saltwater into non-tidal wetlands, which may be inhibited from moving inland due to coastal development. Climate change can inhibit the ability of sediment accretion in tidal wetlands leading to vegetation "drowning."  A decrease in coastal wetlands can threat coastal estuary protection and restoration efforts.
Sea Level Rise and Storm Surge
Wetlands provide valuable flood storage, buffer storm surge, and assist in erosion control. Any loss of coastal wetlands can also increase the risk that rising sea levels and storm surge pose to coastal infrastructure.
Explore More About Adaptation and Wetland Protection