Climate Adaptation – Ground-Level Ozone and Health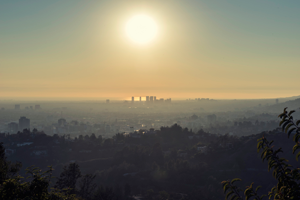 Smog as seen from Griffith Park, Los AngelesOzone can:
Make it more difficult to breathe deeply and vigorously
Cause shortness of breath, and pain when taking a deep breath
Cause coughing and sore or scratchy throat
Inflame and damage the airways
Aggravate lung diseases such as asthma, emphysema, and chronic bronchitis
Increase the frequency of asthma attacks
Make the lungs more susceptible to infection
Continue to damage the lungs even when the symptoms have disappeared
Cause chronic obstructive pulmonary disease (COPD)
These effects have been found even in healthy people, but can be more serious in people with lung diseases such as asthma. They may lead to increased school absences, medication use, visits to doctors and emergency rooms, and hospital admissions.
Long-term exposure to ozone is linked to aggravation of asthma, and is likely to be one of many causes of asthma development. Long-term exposures to higher concentrations of ozone may also be linked to permanent lung damage, such as abnormal lung development in children.
Recent studies consistently report associations between short-term ozone exposures and total non-accidental mortality, which includes deaths from respiratory causes. Studies suggest that long-term exposure to ozone also may increase the risk of death from respiratory causes, but the evidence is not as strong as the evidence for short-term exposure.
At-Risk Populations
People most at risk from breathing air containing ozone include people with asthma, children, older adults, and people who are active outdoors, especially outdoor workers. In addition, people with certain genetic characteristics, and people with reduced intake of certain nutrients, such as vitamins C and E, are at greater risk from ozone exposure.
Explore More About Adaptation – Ground-Level Ozone and Health