Quinault Indian Nation Plans for Relocation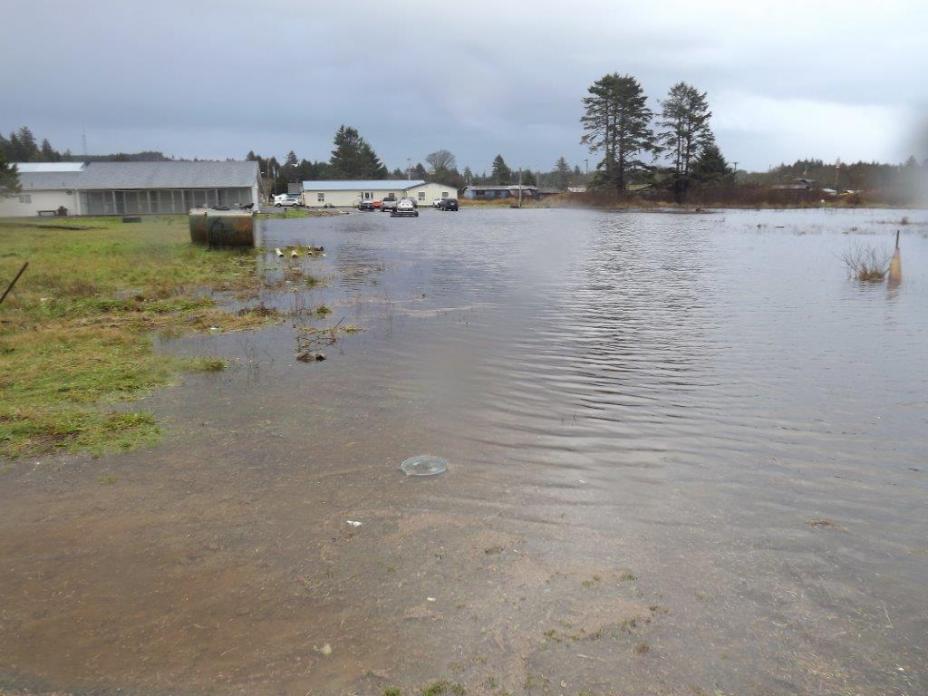 The Quinault Indian Nation village of Taholah is located within Washington State at the confluence of the Quinault River and the Pacific Ocean. Taholah is particularly vulnerable to sea level rise, storm surge, and river flooding – all of which are expected to worsen with climate change. The village is also concerned with the potential threat of tsunamis (which has not been scientifically connected to climate change). The village's vulnerability was highlighted in early 2014 and again in 2015 when storm surge and intense rains caused flooding, landslides, and culvert failures in the lower-laying areas of the village.
To better understand its risk into the future, the Nation conducted a vulnerability assessment with the assistance of an Social and Economic Development Strategies grant from the Administration for Native Americans. The resulting plan – which is incorporating numerous community discussions and forums - centers on relocating 650 residents and vulnerable community facilities a half-mile away from the existing village. The new village will be in a location well above the tsunami and flood zones.
The relocation plan, if implemented, prepares the village to be resilient to anticipated climate change impacts such as storm surge and sea level rise as well as protecting the village from tsunamis; the expected inundation area from a 40-foot wave matches or exceeds the anticipated threat from storm surge and sea level rise resulting from climate change.
Two additional points are worth noting. First, the Nation considered climate (sea level rise, storm surge, and river flooding) and non-climate (tsunami) risks together in determining its vulnerability and adaptation options. Second, the Nation used a tsunami threat standard and FEMA's 1-in-100 year flood zone as the basis for selecting its tsunami risk and climate vulnerability adaptation strategy (rather than conducting a separate climate adaptation analysis).
How Did They Do It?
Applicable EPA Tools

Identified threats

Identified key climate, weather, and community vulnerabilities. These threats included anticipated climate threats from sea level rise, storm surge, and river flooding.

National Climate Assessment & EPA Regional Climate Website can help you identify projected climate risks in your region.

Determined vulnerabilities (including the most vulnerable population) and adaptation options

Identified most vulnerable community areas; which threatened more than 600 tribal and non-tribal residents, many of whom are elderly or very young.
Determined the need to relocate population.

EPA's Coastal Storm Surge Mapper can help you determine whether your community may be vulnerable.

Selected relocation as its adaptation action

The community identified 200 acres near the upper village as a potential relocation option due to its high elevation (120 feet above sea level) and location outside the tsunami hazard zone and FEMA 1-100 year flood zone.
Relocating also enables the Nation to incorporate smart growth techniques including low-impact development and green infrastructure to better prepare the community for the future climate.

EPA's Tribal General Assistance Program Grants may be used to help tribal communities conduct an adaptation plan and inform actions.

Engaged residents in the selected adaptation

The Nation actively engaged its members in the development of the Village Relocation Master Plan. Multiple stakeholder and community meetings have been held and specific outreach efforts addressed the most vulnerable population by targeting schools and tribal elders. These efforts included community surveys and design charrettes to better identify the desired community layout. The preliminary plan includes a multi-use center for seniors, day care and early school head start programs.
The final relocation master plan (expected to be completed in 2016) will detail the overall strategy and allow for a cost and time estimate.

EPA's Creating Resilient Water Utilities program can help communities host an extreme events workshop to identify community risk, engage residents and inform responses.
Similar Cases and More Information
Determining climate risk and vulnerability and developing an adaptation plan are just two components of climate adaptation. For an example of a community in the Northwest that used existing projections to promote climate adaptation planning, view the Anacortes Sea Level Rise Example.
---
References