San Francisco Cleans Up India Basin Waterfront Brownfield Site as Part of Greenspace Development Effort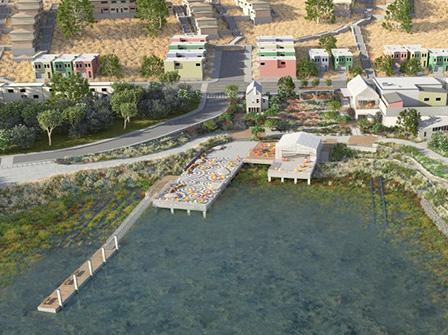 900 Innes & India Basin Shoreline Park (credit: San Francisco Recreation and Parks)San Francisco is working with a diverse group of community partners to develop a 13-mile corridor of greenspace with trails, parks and bayfront access along the city's southern waterfront. The Blue GreenwayExit will include the India Basin Waterfront ParkExit, an area with continuous waterfront access, including a former boatyard, also known as a brownfield

brownfieldWith certain legal exclusions and additions, the term "brownfield site" means real property, the expansion, redevelopment, or reuse of which may be complicated by the presence or potential presence of a hazardous substance, pollutant, or contaminant., that must be cleaned-up before park construction can begin. This project is vulnerable to a range of climate change impacts, particularly sea-level rise.
The San Francisco Parks Alliance, San Francisco Department of the Environment and San Francisco Recreation and Parks Department received Brownfields grants and technical assistance from EPA to evaluate, assess and cleanup the former boatyard and Shipwright's cottage on the property. The initial property assessment considered the vulnerability of the brownfield property to climate change impacts from sea-level rise and shoreline alteration, based upon the San Francisco Bay Conservation and Development Commission's Living with a Rising Bay: Vulnerability and Adaptation report.
The City of San Francisco decided to purchase a brownfield property within the India Basin to support development of the India Basin Waterfront Park. By purchasing the property, remediating the brownfield and contaminated in-water sediment, and turning it into a public amenity, the City of San Francisco is creating much needed open space in a community with environmental justice concerns and softening the shoreline to accommodate sea-level rise. Contamination from prior boatyard activities extended from the uplands into the shallows. Because Brownfields resources can only be spent in upland areas, other funding from EPA's San Francisco Bay Water Quality Improvement Fund was obtained to cover the costs of the subtidal contaminated sediment removal which also prepared the site for future restoration.
Additionally, San Francisco collaborated with the Trust for Public Land to conduct the India Basin Waterfront Study. This study provides a community-supported vision for development of parkland throughout the India Basin waterfront that explicitly accounts for sea-level rise. The results of this study, and extensive stakeholder input, have led to the selection of a master plan through a design competition.
The following links exit the site Exit
How Did They Do It?

Applicable EPA Tools

Identified Climate Risks

The city and interested stakeholders reviewed the San Francisco Bay Conservation and Development Commission's Living with a Rising Bay: Vulnerability and Adaptation in San Francisco Bay and on its Shoreline to better determine the area's anticipated climate risks from sea-level rise prior to purchasing the brownfield property.

Review the National Climate Assessment (NCA) regional projections to better identify projected climate risks.

Determined Site Vulnerability

The city accounted for potential climate change impacts to the proposed clean-up approaches by using EPA's Analysis of Brownfield Cleanup Alternatives checklist to evaluate a brownfield site within India Basin. The resulting report identified site vulnerability from sea-level rise and flooding, including potential spreading of contaminated soil.
Soil excavation was identified as the preferred site cleanup method. Excavation would substantially reduce the risk of remobilizing soil contaminants due to sea-level rise, erosion or flooding versus using a cleanup method involving a barrier around contaminated soil. Further suggestions were made to undertake "adequate measures…to prevent damage from sea-level rise and storm activity that may occur on fill or near the shoreline over the expected life of a project."
• The city received additional technical assistance from EPA to analyze specific site characteristics, mitigation measures and design elements to plan for climate change impacts. Design elements incorporate green infrastructure, including shoreline softening.

Use the EPA's Analysis of Brownfields Cleanup Alternative checklist to help consider anticipated climate changes in your Corrective Action Plan.

Received Brownfields Funds to Assess and Cleanup Property and Conduct Community Outreach

The San Francisco Parks Alliance, San Francisco Recreation and Parks Department and the San Francisco Department of the Environment received various EPA Brownfields grants to support assessment and cleanup of the property within the India Basin, including Brownfields technical assistance, a 2010 Brownfields Area-Wide Planning Grant, a 2012 Assessment Grant, and Cleanup Grants in 2015 and 2017. The project also received a grant from EPA's San Francisco Bay Water Quality Improvement Fund in 2017 to clean-up contaminated sediment in subtidal areas.

Learn more about how EPA's Brownfields competitive grant funding for brownfields assessment, cleanup, revolving loans, and environmental training can be used to support climate adaptation for brownfields properties.

Conducted More Specific Coastal Processes and Sea-Level Rise Analyses

India Basin Waterfront Parks and Trails project conducted an in-depth coastal processes study, including potential shoreline improvement concepts based on sea-level rise impacts to beaches, marshes and hardened shorelines. During their evaluation of sea-level rise vulnerability for the brownfield properties, the City of San Francisco identified additional benefits from redeveloping the property, in accordance with the city's Guidance for Incorporating Sea Level Rise into Capital Planning, which could help facilitate tidal marsh migration as the sea level rises.

Use EPA's Storm Surge Inundation Map to visualize the current 100 and 500-year flood zones in your area. To incorporate future projections, use the Climate Resilience Evaluation and Awareness Tool – Climate Scenarios Projection Map to identify projected climate scenarios for sea-level rise and other climate risks.
Similar Cases and More Information
San Francisco India Basin Waterfront project actively anticipated the effects of sea-level rise within their brownfield redevelopment efforts. To see how another community anticipated climate threats from increased precipitation events, see Barre City, Vermont. To see an example of how a Superfund waste site has prepared for climate changes see American Cyanamid Superfund case.
---
References
The following links exit the site Exit