Asthma Awareness
Información disponible en español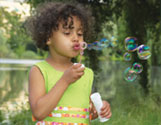 EPA supports local programs working to help people in their communities bring asthma under control. The first step is raising awareness throughout communities that asthma is a serious, sometimes life-threatening chronic disease that can be controlled. Though May is Asthma Awareness Month, don't wait to take action - you can make every month Asthma Awareness Month.
Submit, share and view activities in your area at the Asthma Community Network website! Exit
Community Network
The Asthma Community Network Exit is designed for community-based asthma programs to network and achieve remarkable health and quality of life improvements for people with asthma. Join the network today to meet asthma champions around the country and learn about Asthma Awareness Month planning activities.
Resources
Order multiple copies at no cost to give out at your event from:
Additional Resources