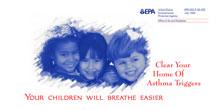 Información disponible en español
Clear Your Home of Asthma Triggers: Your Children Will Breathe Easier. This brochure is a handy resource for parents and caregivers of children with asthma. It explains common indoor asthma triggers and how to control them in homes. 402-F-99-005, July 1999.
You may need a PDF reader to view some of the files on this page. See EPA's About PDF page to learn more.