Beach Monitoring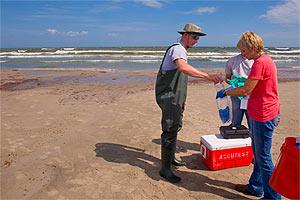 The resources below provide information on beach monitoring methods for both pathogens in recreational waters and marine debris. These resources can help beach managers strengthen beach monitoring efforts, improve the safety of swimmers and detect and prevent marine debris.
---
Beach Act Grants
The BEACH Act authorized EPA to award grants to help states, tribes, and territories ("states") develop and implement their beach monitoring and notification programs. States use the grant funds to operate beach monitoring and notification programs to protect the public at the beach. The type of activities funded include: 1) collecting and analyzing water samples to determine whether they protect public health and to ensure that they do not exceed water quality standards; 2) notifying the public if water quality standards are exceeded; and 3) maintaining state databases of beach water quality and advisory information. To be eligible for BEACH Act grants, states and territories must have coastal and Great Lakes recreational waters adjacent to coastal beaches or similar points of access used by the public. Under the BEACH Act, EPA can also award grants to eligible tribes. Currently, 38 states, territories, and tribes receive BEACH Act grants (thirty states, five territories, and three tribes).
National Marine Debris Monitoring Program (2006)
The National Marine Debris Monitoring Program (NMDMP) was developed to provide statistical and policy assessment information related to marine debris. More specifically, NMDMP was developed to standardize marine debris data collection in the United States by using a scientifically valid protocol to determine marine debris status and trends. In 2010, EPA produced a summary of the lessons learned from this study.
The EMPACT Beaches Project: Results from a Study on Microbiological Monitoring in Recreational Waters (2005) (PDF) (85 pp, 2 MB, About PDF)
The EMPACT Beaches Project examined five beach environments to determine the factors that most influence the measurement of beach water quality. The objective of this study was to improve monitoring of recreational water for microbial indicator levels to make public health protection for beach goers more effective.
Assessing and Monitoring Floatable Debris (2002)
The Assessing and Monitoring Floatable Debris report is designed to assist states, tribes, and local governments in developing their own assessment and monitoring programs for floatable debris in coastal recreation waters. This document provides examples of monitoring and assessment programs that have been established in the United States.
Related Research
As a requirement of the BEACH Act, EPA conducted several new studies associated with pathogens and human health. Research related to monitoring can be accessed from the list of studies contained under the "Research" tab on Scientific Workshops and Research page.