ACT: At the Beach
When you are enjoying the beach, simple acts such as putting your trash in the proper receptacles and using boardwalks instead of walking across the sensitive dune systems can help keep the beach healthy. Take a "Leave No Trace" approach to prevent and minimize harm to the beach during your next beach outing. The actions will help you enjoy the beach while reducing the impact that you leave.
On this page:
---
Stay on Trails and Boardwalks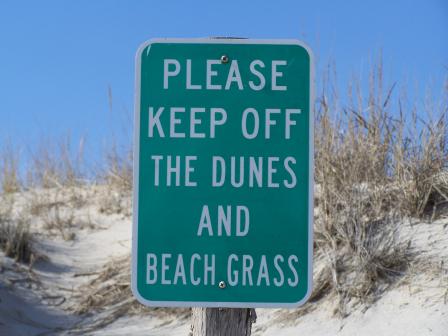 Always use defined trails and boardwalks instead of walking across the dunes. This will help reduce erosion and protect animal and plant species from harm. Keep in mind that beaches are home to many different types of wildlife. Some animals, including sea turtles and birds, use beaches as nesting areas. Other animals may use sand dunes for both food and nesting areas. To avoid disturbing wildlife and plants, observe any signs that identify certain areas of the beach to avoid.
---
Prevent Trash and Litter Pollution
Any man-made solid material, including trash and litter, that ends up in the ocean is commonly referred to as "marine debris." Marine debris is a problem affecting beaches, coastal waters, estuaries, and oceans throughout the world. You can help prevent trash and litter pollution by making good decisions on land or at sea when disposing of trash and other wastes.
When you are at the beach or outdoors:
Dispose of trash properly in waste and recycling receptacles.
Bring an extra bag with you so that you can bring your trash home if receptacles are not available.
If your children use diapers, be sure to dispose of them properly in a receptacle.
If you are fishing at the beach, be sure to collect and dispose of any broken or used fishing line.
At home, remember to reduce, reuse, and recycle to minimize wastes and prevent trash and litter from ending up in the ocean.
Reduce, reuse, and recycle the things you take to the beach. Pack food and beverages in reusable containers whenever possible. This helps minimize the amount of trash that is brought to the beach and reduces the potential for it to end up in the ocean.
---
Do Not Feed Birds or Wildlife
Seagulls, birds, and other wildlife can become accustomed to being fed by humans. Feeding the wildlife can cause them to spend more time at popular bathing beaches and leave more waste behind. Bird waste, as well as waste from other wildlife, can increase the harmful microorganisms in beach sand and in the water.
---
Pick Up after Your Animals
If you bring your animal to the beach, make sure that you pick up any waste they may leave behind. Bacteria from the waste of dogs, horses or other animals can contribute to poor water quality and pose a risk to swimmers and other beach goers.
---
Prevent Pollution from Boats
Always pump out boat sewage in onshore sanitary facilities instead of dumping it into the water.
No Discharge Zones (NDZs)
NDZs prohibit discharge of both treated and untreated sewage from vessels. Within NDZ boundaries, vessel operators are required to keep their sewage discharges onboard for disposal at sea (beyond three miles from shore) or onshore at a pump-out facility.
---
Clean Up Beaches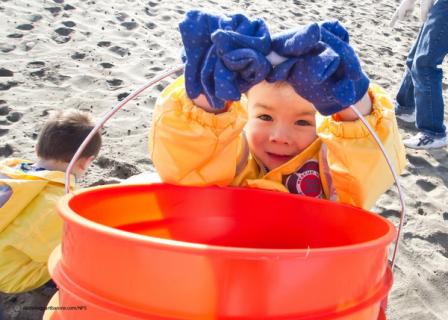 Participating in a beach clean-up event is an easy way to make a difference by removing trash and other debris that can end up polluting the water. Many states have Adopt-A-Beach programs whose focus is on keeping beaches clean. Clean-up events are often held throughout the year by local environmental groups, municipalities or state and federal agencies. Contact your state or local Parks and Recreation Department or environmental organizations such as the Ocean Conservancy for information about beach clean-ups. And, if you don't see a cleanup scheduled, you can always organize your own!