Burn Wise: How to Build a Wood Shed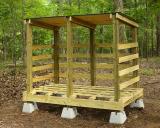 Flyer: Build a Firewood Storage Shed: includes materials list and simple instructions to help you build your own firewood storage shed. Order free copies of the instructions.

Video: How to Build a Firewood Storage Shed - simple building instructions on EPA's YouTube Channel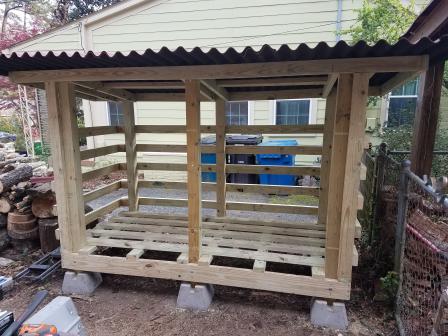 Wood Shed Recommended Improvements: Better protect your wood from the elements by extending the shed roof a foot on all sides. One option is to add a 2"X4"X 10' board across both the front and back of the shed, and then attach additional 2"X4"X4' roof rafters to each side. The roofing material can then be attached to this box frame , eliminating the need for the plywood. 
Additional tips: Use 2"X4"s instead of 1"X4"s  when installing the back, bottom and side slats - they are stronger and typically cost less (note: the how-to video already has this recommendation for the bottom slats). Consider resting the two 2"X6"s directly on the blocks and take the pressure off the screws. You can also use carriage bolts rather than lag screws.