Environmental Job Training
Job Training Graduates Respond to California Wildfires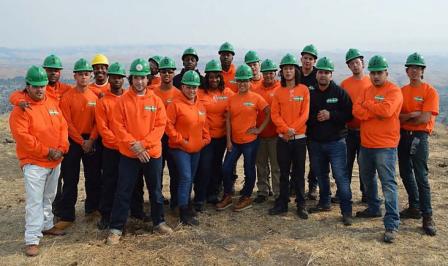 RichmondBUILD graduating class, early November 2017. Click image to enlarge.Over the past five years, EPA has funded nonprofits like RichmondBUILD in Richmond, Future Build in Pittsburg, and Cypress Mandela in Oakland, Calif., to sponsor environmental management and hazardous waste job training for inner city community members. Ordinarily, there's a graduation ceremony when each class completes its training. In November 2017, however, RichmondBUILD graduation was cancelled – the entire class had been hired and many graduates needed to report to work immediately on post-wildfire cleanups in Sonoma and Napa Counties. Future Build in Pittsburg shared a similar experience, with nearly all graduates hired and going to work in the North Bay.
EPA provides funding for environmental job training in underserved communities disproportionately affected by brownfields and environmental contaminants. Up to $200,000 is awarded to eligible government entities, tribes and nonprofits. EPA's Brownfields Job Training initiative supports these community job training programs by funding the 40-hour hazardous waste operations training (known as "HAZWOPER 40") that's needed for cleanup work involving hazardous substances such as lead and asbestos.
The trainees also get certified for Leaking Underground Storage Tank work, first aid/CPR, and work in confined spaces. With additional funding from state grants, the students take pre-apprenticeship courses that include construction math, power tool safety and other professional skills.
Graduates Working Long Hours on Wildfire Cleanup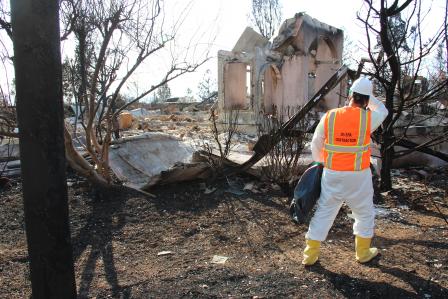 EPA contractor searches a burned North Bay homesite for household hazardous waste. Click image to enlarge.Once their training was complete, the RichmondBUILD and Future Build graduates began working for contractors like I.Q. Environmental and People Ready, which are involved in assessing and cleaning up the sites of thousands of burned homes and other buildings in the North Bay. They've been working 10-hour days up to six days a week.
"It's always been a goal of the RichmondBUILD staff to have 100% placement by or before graduation," says RichmondBUILD's Fred Lucero. "With the recent events in the North Bay, our direct entry into the Carpenters and Plumbers & Steamfitters Unions and EPA-funded HAZWOPER 40 classes, we achieved our goal! Our students overcame many hurdles and sacrificed a lot to complete the rigorous RichmondBUILD Academy."
Lucero says that the skills learned at RichmondBUILD, through EPA funding, have jump-started the trainees' careers. "The North Bay cleanup is the first step for these graduates," he says. By November, 32 Richmond and Pittsburg-trained students were working for EPA contractors in Northern California, and a dozen more, from Oakland, had jobs in the private sector.
EPA-funded job training graduates from as far away as Fresno are working on the North Bay wildfire cleanups. Angel McCurn, who trained through the Fresno Regional Workforce Development Board, was already working as an apprentice in the Cement Masons Union in Fresno County. When he completed his EPA-funded HAZWOPER 40 training on November 10, he was immediately enlisted for North Bay wildfire cleanup work with the Laborers Union.
Says RichmondBUILD graduate Moises Baltodano, "Going through RichmondBUILD and then going to work before graduation was a blessing. But helping clean up this devastation so people can put their lives back together is a bigger blessing."
Job Training in Los Angeles County, on Navajo Nation
Other EPA Brownfields Job Training initiative grantees include the Los Angeles County Conservation Corps in Southern California and the Navajo Nation in Arizona. In addition to receiving training in hazardous materials cleanup and management, students in Los Angeles learn how to install residential and commercial solar panels. Unemployed and underemployed adults are eligible.
Under the Navajo Nation's EPA-funded program, 36 tribal members completed environmental job training through the Navajo Nation's partnership with Northern Arizona University. The training focused on hazardous materials cleanup and management. Students took additional radiological training to gain the skills necessary to work on the ongoing cleanup of former uranium mines on the Navajo Nation.