EPA Response to Fruitland Magnesium Fire, Maywood, CA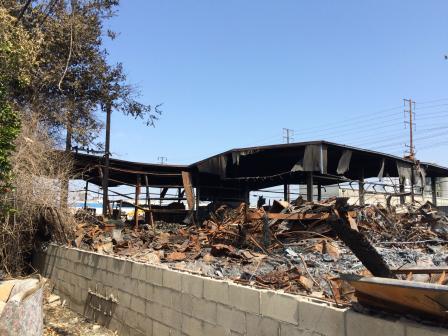 Click to enlarge | Click para agrandarOn June 14, 2016, a fire destroyed an industrial property located at 3570 Fruitland Avenue in Maywood, Calif. The fire affected two separate facilities on the Fruitland Avenue property – Panda International Trading (PIT), a scrap metal recycling business, and SOKOR Metals, an electronics recycling business. Cleanup of hazardous substances at 3570 Fruitland Avenue will begin the week of October 17, 2016, and take approximately eight weeks to complete. A Federal On-Scene Coordinator (FOSC) will be the lead EPA official for the cleanup of hazardous substances. The EPA FOSC will coordinate the agency's activities with state and local agencies, including the Los Angeles County Department of Public Health, the Los Angeles County Fire Health Hazardous Materials Division and the California Department of Resources, Recycling and Recovery.
en español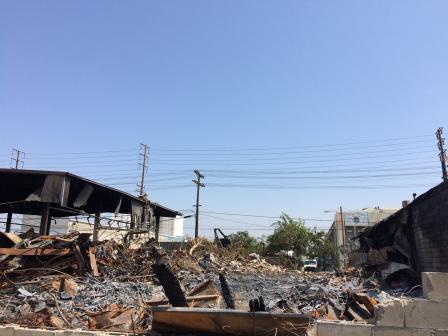 Click to enlarge | Click para agrandarEl 14 de junio de 2016 un incendio destruyó la propiedad industrial localizada en el 3570 Fruitland Ave en Maywood, CA. El fuego impactó dos facilidades en la propiedad de Fruitland Avenue - Panda International Trading (PIT), un negocio de reciclaje de chatarra de metal y SOKOR Metals, un negocio de reciclaje de electrónicos. La limpieza de sustancias peligrosas en el 3570 Fruitland Avenue empezará la semana del 17 de octubre y tomará aproximadamente 8 semanas. Un Coordinador en escena federal (FOSC, por sus siglas en inglés) de la Agencia de Protección Ambiental (EPA) de los Estados Unidos será el oficial encargado de la limpieza de sustancias peligrosas.  El FOSC de la EPA coordinará las actividades de la agencia con las agencias locales y estatales, incluyendo el Departamento de Salud Pública del Condado de Los Angeles, la División de Materiales Peligrosos a la Salud del Departamento de Bomberos del Condado de Los Angeles y el Departamento de Recursos, Reciclaje y Recuperación de California.