Kettleman Hills
Chemical Waste Management Inc. Kettleman Hills Facility
On this page:
Current Status
On July 29, 2020, EPA issued a permit to Chemical Waste Management Inc. for the storage, treatment, and disposal of polychlorinated biphenyl (PCB) waste at the Kettleman Hills Facility (KHF or Facility). EPA has determined that the Facility's PCB operations as allowed by the permit will not pose an unreasonable risk of injury to health or the environment.  
The permit allows the Facility to dispose of PCB waste in the hazardous waste landfill, Landfill B-18. The permit also allows the Facility to store and treat PCB waste at its PCB Storage/Flushing Unit which is a small building located north of the landfill. The permit requires the Facility to monitor groundwater, leachate, and ambient air for PCB releases as well as to conduct regular inspections of the PCB units.
The final permit, supporting determination and analyses including the Environmental Justice Analysis, and response to comment document are available under Related Documents.
Background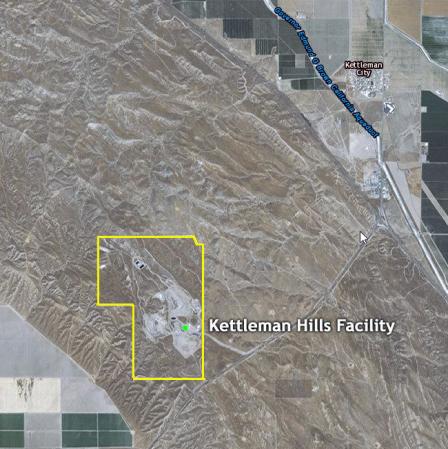 View the Interactive MapKHF is a commercial hazardous waste and chemical waste landfill located southwest of the Interstate 5 and Highway 41 intersection and approximately 3.5 miles southwest of Kettleman City in Kings County, California. KHF accepts PCB waste and most other types of hazardous waste for disposal. It also accepts non-hazardous solid waste for disposal.
Disposal operations at KHF started in 1975 under a permit to dispose of oilfield wastes issued to the McKay Trucking Company by Kings County. KHF became a hazardous waste disposal site in 1977 after McKay Trucking, renamed Environmental Disposal Services Inc., expanded the facility's size and operations. CWM acquired the site in 1979 and subsequently obtained permits from California to treat, store, and dispose of hazardous waste and EPA to treat, store, and dispose of PCB waste.
The disposal of PCB waste at KHF started in the early 1980s. Over time, KHF has disposed of PCB waste in four landfills: B-14, B-16, B-18, and B-19. Landfills B-14, B-16, and B-19 no longer accept PCB wastes. The only remaining active landfill permitted by EPA to accept PCB waste is Landfill B-18.
KHF also operates under a Resource Conservation and Recovery Act (RCRA) permit issued by the California Department of Toxic Substances Control (DTSC) in 2003. DTSC modified the RCRA permit in 2014 to allow for the construction and operation of Landfill B-18 Phase III. Phase III has been constructed and is currently accepting hazardous waste. KHF submitted an application to renew its RCRA permit which DTSC is currently reviewing. More information on the RCRA permit and renewal application is available on DTSC's Envirostor website Exit.
In addition to EPA and DTSC permits, KHF is also regulated by the California Department of Resources Recycling and Recovery, Central Valley Regional Water Quality Control Board, Kings County, and San Joaquin Valley Air Pollution Control District. The types of permits and links to other agencies are in the table below.