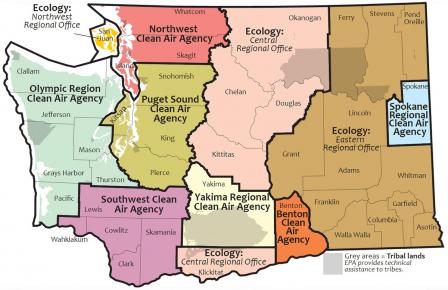 Map showing jurisdiction of clean air agencies in Washington by county (click map for larger image). Or visit Washington clean air agencies.ExitThe documents available below list the part 60 NSPS, part 61 NESHAP and part 63 NESHAP delegated from EPA Region 10 to:
Benton Clean Air Agency (BCAA).
Washington Department of Ecology (Ecology).
Northwest Clean Air Agency (NWCAA).
Olympic Region Clean Air Agency (ORCAA).
Puget Sound Clean Air Agency (PSCAA).
Southwest Clean Air Agency (SWCAA).
Note that there are no recent delegations of NESHAP and NSPS to the Spokane Regional Clean Air Agency (SRCAA) or the Yakima Regional Clean Air Agency (YRCAA). EPA remains the authority for these standards in Spokane and Yakima Counties.
---
You may need a PDF reader to view some of the files on this page. See EPA's About PDF page to learn more.