CAMEO Chemicals Software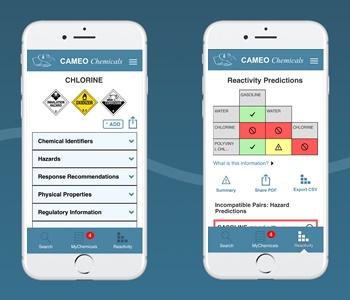 CAMEO Chemicals is the hazardous chemical database for the CAMEO® software suite, which is used widely to plan for and respond to chemical emergencies. CAMEO Chemicals also has a tool to predict possible hazards if chemicals are mixed together.
With CAMEO Chemicals, you can search through the extensive chemical database to find chemical datasheets with critical response information, including physical properties, health hazards, information about air and water hazards, and recommendations for firefighting, first aid, and spill response.
Additional datasheets based on UN/NA identification numbers provide response information from the Emergency Response Guidebook (ERG) and shipping information from the Hazardous Materials Table (49 CFR 172.101).
CAMEO Chemicals is available as a website, mobile website, mobile app, and desktop program. The mobile app (shown above) and the desktop program formats can be used offline, and the desktop program can share information with other CAMEO suite programs.
Downloading CAMEO Chemicals
Download CAMEO Chemicals for Windows (Version 2.7.1, July 2018)
Download CAMEO Chemicals for Mac (Version 2.7.1, July 2018)
Get the CAMEO Chemicals app for iOSExit (on App Store)
Get the CAMEO Chemicals app for AndroidExit (on Google Play)
Learning More About CAMEO Chemicals
For a brief summary of the CAMEO Chemicals program and its capabilities, download the CAMEO Chemicals fact sheet (PDF). (2 pp, 787 KB, About PDF) 
Significant Changes in CAMEO Chemicals Version 2.7.1
Added the Occupational Safety and Health Administration (OSHA) Process Safety Management levels in regulatory section of chemical datasheets.
Modified Advanced Search to include new OSHA Process Safety Management data.
Updated data, including new Hazmat Table (49 CFR 172.101) values, new DuPont Tychem suit fabric information, and updated chemical reactivity information.
Moved links for the National Institute for Occupational Safety and Health (NIOSH) Pocket Guides and the International Chemical Safety Cards above the National Fire Protection Association (NFPA) diamond information on the chemical datasheets.
Added Advanced Search to mobile app. (Already available in other CAMEO Chemicals formats.) Search includes more field choices, additional search operators, and the ability to search multiple fields at one time.
Added option to import MyChemicals text files to mobile app. (Already available in other CAMEO Chemicals formats.)
Added new view history feature to mobile app. (This is only available in the CAMEO Chemicals app format.) Use this menu item to quickly return to any datasheet that you viewed during the session.
Added support for multi-tasking for the mobile app on iOS tablets. (This was already available on the Android version of the app.)
Improved mobile app menu.
Revised privacy policies for all formats.
Updated helps.
Made additional minor changes and bug fixes.
Getting Help
You can report software bugs or obtain additional assistance by emailing the RMP Reporting Center (RMPRC@epacdx.net), or by calling the CAMEO help desk at (703) 227-7650 on weekdays from 8 AM to 4:30 PM, Eastern Time.