Profiles of African Americans at EPA: Beverly Banister
Profiles of African Americans at EPA
---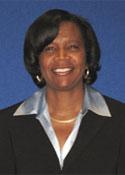 Beverly Banister, Deputy Regional Administrator
Atlanta, GA (EPA Region 4)
Where were you born?
Wedowee, Alabama.
What brought you to EPA?
While I was an intern at a chemical manufacturing facility, a co-worker told me of a job opportunity at EPA.
What type of work do you do at EPA?
As the R4 Deputy Regional Administrator, I oversee environmental programs as well as guide administration of operations for a regional staff of over 850 employees and a budget of over $700 million dollars.  I have over 36 years of experience which spans Water, Land (hazardous and solid waste), Air, Chemical Safety and Enforcement Programs.  I am most proud of the strong and sustainable state, local and tribal partnerships that have been established under my leadership.  These partnerships are an integral part of the Agency's success in improving the quality of life for the many diverse communities across the Southeast.  In my work at EPA, I often have the opportunity to engage with our international delegations on various environmental topics.  One of the highlights that I cherish is traveling to Shanghai, China to support air quality planning in preparation for the World Cup.
In addition to mentoring, I also serve as a certified internal coach in the EPA Coaching Program.   My passion has always been to foster a culture that motivates and inspires employees to reach their highest level of performance and job satisfaction. 
What is your highest level of education? What was your major?
I have a bachelor of science degree in chemical engineering.
What message would you like to send other Black/African Americans who are considering college or a career in environmental protection?
I highly recommend seeking employment with the agency. EPA offers excellent opportunities to utilize your talents and skills while making a real difference in the quality of lives of people living in our communities. Through diverse experiences in collaborations and partnerships in the public and private sectors and academia, EPA encourages staff to enhance their experience in a number of environmental protection programs. After 36 years with the agency, I'm still excited about coming to work every day and making a positive impact in people's lives.