Profiles of African Americans at EPA: Carlos Evans
Profiles of African Americans at EPA
---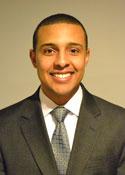 Carlos Evans, Senior Assistant Regional Counsel
Office of Regional Counsel
EPA Region 6
Dallas, Texas
Where were you born?
San Francisco, California.
What brought you to EPA?
I was a law student interested in using the law to promote social justice.  I realized that EPA's legal authority would offer me the opportunity to drastically improve the lives of people living in our most neglected communities.  That's what drew me to the agency.
What type of work do you do at EPA?
I am a Clean Air Act enforcement attorney. I provide legal counsel to the Region 6 enforcement program as it develops and brings enforcement actions against facilities that have violated the Clean Air Act. Before my current job, I worked at EPA Headquarters in Washington, DC for over ten years where I focused on enforcing cleanup authorities (e.g., CERCLA), advancing environmental justice, improving the Agency's Title VI program, advancing smart growth, and reducing pollution from freight transportation.
What is your highest level of education? What was your major?
I have a juris doctor degree from Howard University School of Law.
What message would you like to send other Black/African Americans who are considering college or a career in environmental protection?
Pollution plays a critical role in the health problems affecting communities of color. EPA, state, and local environmental agencies can do a better job of addressing these issues by attracting people from diverse backgrounds into their workforce. If you are concerned about the health of communities of color and seek an opportunity to make a real difference in our communities, then environmental protection may be your calling.