Profiles of African Americans at EPA: Denise Benjamin-Sirmons
Profiles of African Americans at EPA
---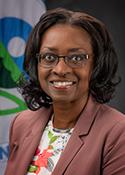 Denise Benjamin-Sirmons, Director
Office of Small and Disadvantaged Business Utilization
Office of Administration
Washington, DC
Where were you born?
Rose Hall, Guyana.
What brought you to EPA?
I was looking for an opportunity to advance my career at a federal agency with an important mission.
What type of work do you do at EPA?
I serve as the senior executive responsible for directing the agency's small business programs. The programs essentially support the agency's mission to protect human health and the environment by advancing the business, regulatory, and environmental compliance concerns of small businesses.
What is your highest level of education? What was your major?
I have a master of laws degree.
What message would you like to send other Black/African Americans who are considering college or a career in environmental protection?
Careers in environmental protection represent one of the fastest-growing job markets domestically and internationally. At EPA, there are a variety of career options ranging from environmental law, business, advocacy and education, to highly technical scientific and engineering positions. These opportunities bode particularly well for those committed to achieving sustainable communities and to protecting the health and wellbeing of our most vulnerable populations.