Profiles of African Americans at EPA: Devon Payne-Sturges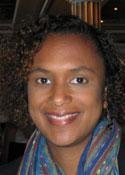 Devon Payne-Sturges, Environmental Health Scientist
Office of Research and Development
Washington, D.C.
Where were you born?
Washington, D.C.
What brought you to EPA?
I first came to EPA's Office of Policy to conduct original, policy-relevant research to advance environmental health. I've been at EPA ever since.
What type of work do you do at EPA?
I'm especially proud of the work I do on health disparities. While there are many definitions, we can define health disparities as differences in the quality of health that may exist as result of a person's socioeconomic status, age, disability, and environment. Studies show that disadvantaged social groups have worse health conditions and are at a greater risk of environmental hazards, such as asthma, lead poisoning, and pesticide exposure. Regulatory decisions that do not fully consider the human relationship to the environment are shortsighted. Environmental health research and policies need to be focused on the processes that lead to environmental inequities.
Over the years, I've researched the relationship between the environment and health among minority children. As a result of my research I developed several fact sheets on children's environmental health disparities so that people can better understand this special relationship and help to protect all children regardless of their socioeconomic status or ethnicity.
At the National Center for Environmental Research, I'm leading funding efforts for interdisciplinary research discoveries to address these problems. Learn more about our work.
What is your highest level of education? What was your major?
I have a doctorate in public health (DrPH); I majored in environmental health sciences.
What message would you like to send other Black/African Americans who are considering college or a career in environmental protection?
The message is simple: focus on developing quantitative skills.