Profiles of African Americans at EPA: Helena Wooden-Aguilar
Profiles of African Americans at EPA
---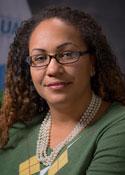 Helena Wooden-Aguilar, Deputy Associate Administrator
Office of Policy
Washington, DC
Where were you born?
Philadelphia, PA.
What brought you to EPA?
I came to the agency to work on environmental law and policy issues.
What type of work do you do at EPA?
I am the Deputy Associate Administrator (DAA) in the Office of Policy (OP). OP provides multi-disciplinary analytic skills, management support, and special expertise in the following areas: regulatory policy and management, environmental economics, community revitalization, climate adaptation, environmental justice, environmental permitting, National Environmental Policy Act, and stakeholder engagement via Smart Sectors. As the DAA I support the Agency's mission by conducting sound regulatory, scientific, and economic analyses and by creating business and community partnerships to achieve greater and more cost-effective public health and environmental protection. I am also responsible for leading OP's management team in strategic planning, budget planning, and establishing human resources practices and policies.
What is your highest level of education? What was your major?
I have a Bachelor's of Arts from Howard University and a Juris Doctor (JD) in environmental law and policy from Vermont Law School.
What message would you like to send other Black/African Americans who are considering college or a career in environmental protection?
I would strongly encourage them to consider a career in environmental protection. I am extremely happy that I made this career choice. I love what I do and I love being surrounded by people who love what they do. It truly is the best place to work!