Profiles of African Americans at EPA: Lance McCluney
Profiles of African Americans at EPA
---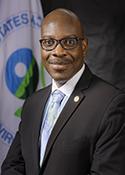 Lance McCluney, Acting Director
Office of Administrative and Executive Services
Office of the Administrator
Washington, DC
Where were you born?
Shelby, NC
What brought you to EPA?
During my pursuit of a master's degree in mathematics education at North Carolina Agricultural and Technical State University, I was afforded the opportunity to intern with EPA at Research Triangle Park. I spent two summers in the Office of Air and Radiation working as a statistician on issues involving particulate matter and ozone. Eventually, two full time statistician positions were announced, of which I applied to and was selected.
What type of work do you do at EPA?
As the acting director for the Office of Administrative and Executive Services, I oversee the budget, human resources and information management systems functions for the Office of the Administrator. In addition, I am the Senior Budget Officer for the Office of the Administrator and work very closely with the Senior Resource Official (SRO).
What is your highest level of education? What was your major?
I obtained my master of business administration from Grand Canyon University and my bachelor of science degree in mathematics from the University of North Carolina at Greensboro.
What message would you like to send other Black/African Americans who are considering college or a career in environmental protection?
I would encourage them to pursue their dreams of leaving a lasting impact on environmental protection. No matter what your major is, you would more than likely be able to use it at EPA. Your voice, your expertise, your commitment and your talent are all needed at EPA.