Profiles of African Americans at EPA: Tracy White
Profiles of African Americans at EPA
---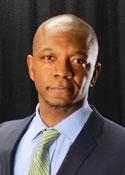 Tracy White, Program Analyst
Office of Small and Disadvantaged Business Utilization
Office of the Administrator
Washington, DC
Where were you born?
I was born in Monroeville, AL.
What brought you to EPA?
As an undergraduate student, I majored in environmental science because I wanted to learn more about how we impact the environment and what we can to do to protect it and ourselves. I always wanted to work here and was fortunate to get a job with EPA.
What type of work do you do at EPA?
I've been with the agency for over 16 years and have experienced some diverse positions. I currently work in the Office of Small and Disadvantaged Business Utilization (OSDBU). OSDBU supports the agency's mission to protect human health and the environment, by advancing the business, regulatory and environmental compliance concerns of small businesses.
What is your highest level of education? What was your major?
I received my Master's Degree in Soil Science from Alabama Agricultural & Mechanical University.
What message would you like to send other Black/African Americans who are considering college or a career in environmental protection?
Personally, I'm inspired by a quote by the American writer Ralph Ellison: "Education is all a matter of building bridges." A college degree doesn't necessarily guarantee a job in your major, but it is a critical step for entering the workforce. College is the gateway to the "real world."
While I'm partial to the environmental protection field, I think that to be successful in any career choice, you first must be passionate about that field. In addition to taking the required science courses for environmental protection majors, I would also encourage students to take courses in policy and business administration/management, particularly if they want to pursue a career in government. Regardless of your ultimate career choice, you should always strive to make the environment better for the future.