Profiles of Hispanics at EPA: Nadtya Y. Hong
---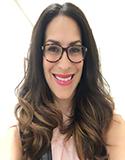 Nadtya Y. Hong, Esq., International Environmental Program Specialist
Latin America and Caribbean Team
Office of International and Tribal Affairs
Washington, DC
Question: Where were you born?
Nadtya Hong: San Juan, Puerto Rico. I grew up in Toa Baja, Puerto Rico.
Question: Where did you go to college? What was your major?
Nadtya Hong: I went to the University of Puerto Rico, Rio Piedras campus, for a bachelor's in environmental science. Later, I attended George Washington University's Law School, where I earned a J.D. in law.
Question: What brought you to EPA?
Nadtya Hong: I always wanted to be an international environmental lawyer and work for EPA, and had the opportunity to do so right after law school. I was fortunate to start working in EPA's international office and I have been here ever since.
Question: What kind of work do you do at EPA?
Nadtya Hong: I manage environmental cooperation programs in the Latin American and Caribbean regions, particularly in the Andean region (Peru, Chile and Colombia). As part of my duties, I work closely with my counterparts in these countries, providing technical expertise on a wide variety of environmental issues. I coordinate capacity building and information exchanges between U.S. environmental experts and our counterparts in those countries.
Question: What message would you like to send young Latinos who are considering going to college?
Nadtya Hong: The best advice my mother gave me was to find an area of study that I was both good at and passionate about. When you combine talent and passion, the sky is the limit.