Profiles of Hispanics at EPA: Soledad Calviño
---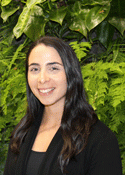 Soledad Calviño, Public Affairs Specialist
Office of Public Affairs, Region 9
San Francisco, CA
 
Where were you born?
Buenos Aires, Argentina. I moved to Florida with my family when I was 13 years old.
What brought you to EPA?
I have always wanted to work in the federal government. Even though I don't have a scientific background, EPA's mission resonated with my desire to help make the world a better place. I was interested in learning how environmental protection is an integral consideration in policy making.
What type of work do you do at EPA?
As a Public Affairs Specialist, I get to work with all the different EPA offices in the region and HQ. This allows me to get to know many of my colleagues and learn about all the issues they are working on – which is very helpful when I interact with the media.
If I'm not writing a press release or working a media event, I'm usually responding to press inquiries. As Region 9's bilingual press office, I often conduct TV and radio interviews with Spanish-speaking media to educate the community on the importance of EPA's work. I also make sure that we have translation and interpretation services for our Limited English Proficiency individuals in communities across the region.
From time to time, I also deploy to emergency responses as a Public Information Officer. My job is to make sure that the information provided during an incident is understandable, timely, accurate and consistent.
What is your highest level of education? What was your major?
I have a Master of Public and International Affairs from the University of Pittsburgh and a Bachelor of Science in Psychology from the University of Central Florida.
What message would you like to send other Hispanics who are considering college or a career in environmental protection?
College will help you discover what your interests are and expose you to different opportunities that you might not even be aware of. Read as much as you can, find a good mentor, and don't limit yourself. Also, make sure you are practicing and perfecting your Spanish skills, they are more important and in-demand than you might realize. If you do decide to go into a career in public service, EPA offers excellent opportunities to apply your talents and skills while making a real difference in people's lives.