Profiles of Members of EPA's Asian-American and Pacific Islander Community: Alejandro "Alex" E. Almario
Profiles of Members of EPA's Asian-American and Pacific Islander Community
---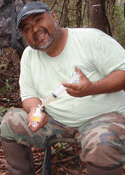 Alejandro "Alex" E. Almario, Biologist and Field Research Coordinator
Office of Research and Development
National Health and Environmental Effects Research Laboratory
Gulf Ecology Division
Gulf Breeze, FL
Where were you born?
Quezon City, Philippines
What brought you to EPA?
Before EPA I did almost a decade of field and laboratory experience with the National Park Service at Assateague Island National Seashore and Glen Canyon National Recreation Area/Lake Powell conducting aquatic ecosystem monitoring. Previous to that I did work in the public and retail aquarium industry and pharmaceutical toxicology.
What type of work do you do at EPA?
I am responsible for all aspects of field support for scientists conducting estuarine research in the Gulf of Mexico and southeastern United States in support of the EPA's Office of Research and Development. These duties include boat operation and maintenance; water quality data and sample collection; wetlands, mangrove, seagrass and coral research; scuba surface support and diving; fieldwork; and wet lab ecotoxicology support. Basically, I assist in estuarine research and conduct the science behind the nation's future environmental laws.
What is your highest level of education? What was your major?
In 1991 I earned Bachelor of Science degree from Stockton State College of New Jersey in marine science with a concentration on marine resource management and aquaculture.
What message would you like to send other Asian Americans who are considering college or a career in environmental protection?
Like many Americans, we enjoy the outdoors and appreciate all things a clean and healthy environment provides for our well-being and that of our children. Asian Americans can contribute to research and regulations to protect our environment now and for the future and give back to our country by seeking fulfilling careers in the science with the EPA or other federal agencies.