Profiles of Members of EPA's Asian-American and Pacific Islander Community: David Magdangal
Profiles of Members of EPA's Asian-American and Pacific Islander Community
---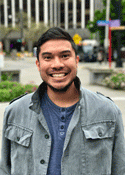 David Magdangal, Environmental Engineer
Land Enforcement Section, Air & Land Enforcement Branch, Enforcement & Compliance Assurance Division
Seattle, WA (EPA Region 10)
Where were you born?
Whittier, California
What brought you to EPA?
After receiving my master's degree in environmental engineering, I was encouraged by both my parents to apply for the Presidential Management Fellowship program. The yearlong process included challenging steps to become a semifinalist and a finalist, with several interviews thereafter from multiple locations at EPA before being offered a position in Seattle, Washington.
What type of work do you do at EPA?
As an inspector and case developer for the Land Enforcement Section, I work with Section 112(r) of the Clean Air Act and the Emergency Planning Community Right-to-Know Act. Both rules work together to regulate facilities that store, utilize, or manufacture toxic chemicals that have the potential to harm human health and the environment. My work helps prevent accidental releases of toxic chemicals into the environment; and protects emergency responders and the community by fostering communication and awareness of these chemicals nearest to them.
What is your highest level of education? What was your major?
My highest level of education is a Master's of Science degree in environmental engineering from the California State University, Fullerton.
What message would you like to send other Asian Americans who are considering college or a career in environmental protection?
Getting into the EPA wasn't easy. In fact, I was very discouraged along each step of the way. My patience and endurance was tested, but the end result is quite honestly, the best career I've ever had. The best part of my career is the freedom it affords. Similar to my experience in graduate school, my career is an extension of my studies and research, where it is truly up to me how I make the most of it.