Profiles of Members of EPA's Asian-American and Pacific Islander Community: Elle Chang
Profiles of Members of EPA's Asian-American and Pacific Islander Community
---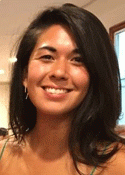 Elle Chang, Program Analyst
Office of International and Tribal Affairs
Office of Global Affairs and Policy
Washington, DC
Where were you born?
Charlottesville, Virginia
What brought you to EPA?
As a first generation Taiwanese-American and daughter of a political refugee, I grew up in a household where we valued everything we used and reused as much as we could, from the water coming from our taps to the foods we consumed. Whether I liked it or not, the interconnectedness of social and environmental issues was pretty pronounced to me from an earlier age. EPA was an attractive place to work because it allowed me to continue my passion for improving/protecting the environment and the well-being of indigenous and disadvantaged communities while being positioned in an influential policy making institution to make a difference.
What type of work do you do at EPA?
My primary responsibilities include supporting EPA engagements at the UN Environment Assembly (UNEA), G7, and G20 environment ministerial meetings and to advance EPA equities during interagency processes and international meetings.
What is your highest level of education? What was your major?
I have a masters' degree in international development. In college, I majored in international relations, with minors in East Asian studies and homeland security/emergency preparedness.
What message would you like to send other Asian Americans who are considering college or a career in environmental protection?
Every profession, be it a professor, community organizer, writer, small business owner, or urban planner, is interconnected and can have environmental opportunities. The choices are truly infinite! Pursue a career that makes you and your heart feel full each day, and make sure it challenges you too! Environmental work is not for the faint of heart, but it can be incredibly rewarding. We need more voices and minds from the Asian American community to be advocates, so be confident, meet people with from places you envision yourself, and read as much as your mind can handle!