Profiles of Members of EPA's Asian-American and Pacific Islander Community: Enid Chiu
Profiles of Members of EPA's Asian-American and Pacific Islander Community
---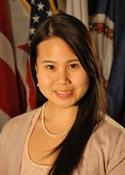 Enid Chiu, Public Affairs Specialist
OLEM/Office of Emergency Management Washington, DC
Where were you born?
Battle Creek, Michigan.
What brought you to EPA?
As an undergrad engineering student, I was fascinated by the world of science and engineering. I was very interested in finding ways to apply these concepts for the greater good.  I got a student internship with EPA Region 3, which gave me a broader view of environmentalism. After graduating college, I joined EPA.
What type of work do you do at EPA?
I work in communications in EPA's Office of Emergency Management. This office responds to environmental emergencies that occur on a day-to-day basis as well as national-level emergencies like hurricanes or other natural disasters. When communities are experiencing emergencies, it is crucial that they have access to accurate, understandable and timely information. My role is to ensure that the public is informed and engaged in the work we are doing to clean up communities. There should be no barriers to this type of information, including level of education, socioeconomic status, or primary language. 
What is your highest level of education? What was your major?
I have a bachelor of science in engineering with a major in bioengineering from the University of Pennsylvania. I'm currently pursuing a master of science in environmental planning and management from the Johns Hopkins University.
What message would you like to send other Asian Americans who are considering college or a career in environmental protection?
Go for it! We are always in need of bright minds and fresh perspectives. Environmental protection affects all people. It would be ideal to have the diversity of the environmental workforce be reflective of the populations impacted.