Profiles of Members of EPA's Asian-American and Pacific Islander Community: Harry Shah
Profiles of Members of EPA's Asian-American and Pacific Islander Community
---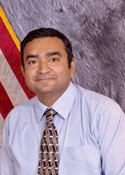 Harry Shah, Environmental Engineer
Land, Chemical and Redevelopment Division
Dallas, TX (EPA Region6)
Where were you born?
India
What brought you to EPA?
After my graduation, I worked with an engineering consulting firm as thermal/process engineer. My role was designing/revamping industrial heaters and boilers under NOx abatement program. That inspired me to work on the regulating side of the program and hence, I joined EPA.
What type of work do you do at EPA?
As an environmental engineer, I coordinate with EPA Region 6 states, on a variety of technically complex requirements on treatment, storage, and disposal of Resource Conservation and Recovery Act (RCRA) hazardous waste, while providing oversight for R6 states' hazardous waste permitting. As a Lean Six Sigma Black Belt, I facilitated projects to improve the efficiency. Being a task order contracting officer representative, I develop task orders, lead contract negotiations, and manage timely execution of the contract. As a R6 combustion contact, I am involved in regulating the emissions resulting from combustion of hazardous waste in incinerators, and boilers.
What is your highest level of education? What was your major?
I have a Master of Science in Chemical Engineering.
What message would you like to send other Asian Americans who are considering college or a career in environmental protection?
An education in an environmental field is extremely rewarding. A career with EPA has a wide scope. There are multiple program covering protection of air, water, and land. There are opportunities ranging from developing policy, permitting, inspection, enforcement, legal counsel, and community outreach. There is a learning opportunity by transferring between the programs.