Profiles of Members of EPA's Asian-American and Pacific Islander Community: Piyachat Terrell
Profiles of Members of EPA's Asian-American and Pacific Islander Community
---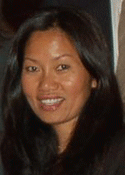 Piyachat Terrell, AAPI Employment Program Manager
Diversity, Recruitment, & Employee Services Division
Washington, DC
Where were you born?
I was born in Thailand and grew up in the U.S. and Germany.
What brought you to EPA?
I started my federal career at NASA but have always believed in EPA's mission to protect human health and the environment. When an opportunity for career advancement in the budget field became available, I moved to EPA and have been here since.
What type of work do you do at EPA?
At EPA, I have been fortunate to work in various fields including budget, grant, community engagement, translation, recruitment and outreach. I work with amazing people who are committed to protecting our environment. In my current position, I work with students to expose them to environmental careers. In 2010, a group of interns developed an interactive garden project for students with disabilities. Since then, disabled students at Longview Elementary school are able to participate in environmental activities. My work with students is meaningful and makes EPA a wonderful place to work.
What is your highest level of education? What was your major?
I have a Bachelor of Arts in Art and Health.
What message would you like to send other Asian Americans who are considering college or a career in environmental protection?
It's important to consider what kind of environmental career you would like to pursue (like research, policy, law, science, community engagement, management, or other). Look at the requirements in the area that most interest you. Expand your knowledge and build required skills through internship and volunteer opportunities, environmental conferences, on-campus environmental activities, and reach out to environmental experts who are in the field you are interested in.