Profiles of Members of EPA's LGBT Community: Allison Hoppe
Profiles of Members of EPA's LGBT Community
---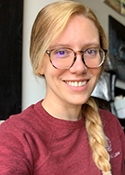 Allison Hoppe, Attorney Adviser
Office of General Counsel
Cross-Cutting Issues Law Office
Washington, DC
Where were you born?
I was born in Kingston, NY, and spent my whole life prior to 2016 when I moved to DC living in various parts of upstate NY.
What brought you to EPA?
I did a summer clerkship in the Office of General Counsel here in 2015 while I was still in law school and I absolutely loved the work and getting to know everyone in the office. I knew there was nowhere else I'd rather work because being an EPA employee felt like the best way to work towards making large scale progress on issues like climate change, environmental justice, and protecting human health through pollution reduction. I was lucky enough to get a job offer out of the clerkship and started here in October 2016.
Describe the type of work you do at EPA.
I am in the Communities and Ecosystems Practice Group in the Cross-Cutting Issues Law Office and I provide counsel to EPA employees across the agency on issues relating to the National Environmental Policy Act (NEPA), environmental justice, and federal Indian law. In my NEPA practice, I mostly advise programs on whether they need to and how to comply with NEPA's procedural requirements, which broadly speaking involve conducting an environmental review and engaging the public. I am new to the environmental justice practice, so still learning a lot there. And the federal Indian law practice involves issues relating to how our environmental statutes apply to tribes and their lands. I feel very fortunate to get to combine my interest in environmental issues with my focus on how those issues impact people, particularly those who typically have the least power.
What is your highest level of education? What was your major?
I attended Cornell Law School where I got my J.D., and I majored in political science and international relations in undergrad at SUNY Geneseo.
What message would you like to send other members of the LGBT community who are considering college or a career in environmental protection?
I would encourage you to strongly consider college and a career in environmental work! My college experience taught me so much outside the classroom and it actually wasn't until college that I fully realized I identified as pan/bi/queer. Law school was also an incredibly informative experience that taught me so much about how much injustice is foundationally embedded, frequently by design, into our "justice" system. But it also came with a lot of debt, stress, and mental health challenges, so I want to acknowledge that it can be really hard, and it also just isn't the right path for everyone for a whole host of other reasons. Still, my education shaped the way I think and write and gave me the opportunity to work exactly where I wanted to, and I am very grateful for that. I'd encourage you to consider environmental work whether you choose the college route or not. At its core, environmental work is about protecting and healing the fundamental systems we and all life on earth depend on. It can be very tangible work like clearing trails, protecting endangered species in the field or educating children, but it can also be broad policy or legal work where you don't see the direct results of your labor but you know that by drafting a policy or implementing regulations, you are contributing to nationwide results. And so much more of it is about people – their health, their communities, their natural environments and resources they depend on – than it is about an abstract concept of nature. So for these reasons and many more, I would recommend that you consider a career in environmental work.