Profiles of Members of EPA's LGBT Community: Bob Sachs
Profiles of Members of EPA's LGBT Community
---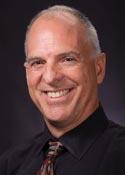 Bob Sachs, Environmental Scientist
[He - Him - His]
Office of Policy
Washington DC
Where were you born?
Hanover, New Hampshire.
What brought you to EPA?
My lifelong love of the outdoors, seasons, weather, and a background in geology has shaped my core values. The opportunity to improve the environment with EPA was something I could not pass up. Now all of a sudden it's 2020...
I have been here since 1991. Yes, time flies when you are having fun. Then it speeds up.
Describe the type of work you do at EPA.
Working in EPA's Policy Office has provided the opportunity to work on a wide range of issues, from authoring regulations for hazardous waste to developing an environmental code of conduct for ski areas in the U.S. named Sustainable SlopesExit. I also worked in a program called Performance Track, where top-performing facilities that met environmental improvement goals beyond compliance were recognized.
I have developed a few public web applications – the Green Infrastructure Wizard [GIWiz], the Materials Management Wizard [MWiz] the Sector Snapshots Tool [SST], and most recently the List N Tool that provides easy access to the list of EPA registered disinfectants that are effective against COVID-19.  I led development of the charter establishing EPA's Executive Management Council, which is chaired by the EPA Deputy Administrator and is comprised of senior career leaders at EPA. Currently, I am part of a small team who implements EPA's new "Smart Sectors" program. EPA's Smart Sectors is a partnership program that provides a platform to collaborate with regulated sectors and develop sensible approaches that better protect the environment and public health. I am fortunate to work as our sector lead on mining issues, which connect back to my geology education. I also lead our aerospace and iron and steel sectors.
What is your highest level of education? What was your major?
I have a bachelor of science in geology from St. Lawrence University in Canton, NY.
What inspired you to fight for equal rights for the members of the LGBT community?
The day my younger child came out as gay at age 13 inspired me to take whatever action I can to advocate for the greater LBGTQ+ community. Skipping forward about eight years, they came out again, and my child is now in the process of transitioning to female. My wife and I are incredibly proud and privileged to be engaged in her journey.
What message would you like to send other members of the LGBT community who are considering college or a career in environmental protection?
Balance. Be present. Don't squander your days, because every single one counts. Did I mention balance? Keep it fun; we can create our own happiness.