Profiles of Members of EPA's LGBT Community: Christina Motilall
Profiles of Members of EPA's LGBT Community
---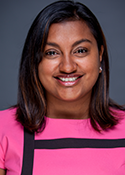 Christina Motilall
Public Affairs Specialist
Office of Environmental Justice
Washington, D.C. 
Where were you born?
I was born in Minnesota as a first generation American.
What brought you to EPA?
I went to an environmental high school in Minnesota (magnet school) and I knew it was my calling. I decided at 16 I wanted to work at the EPA, and here I am!
Describe the type of work you do at EPA.
I have had a few roles since coming to the agency, but my main focus has been science communications.
What is your highest level of education? What was your major?
I have a Masters of Science in Environmental Science (MSES) in environmental chemistry, toxicology, and risk Assessment and a Masters of Public Affairs (MPA) in environmental policy and natural resource management. I mostly focused my education on environmental justice, both domestically and internationally, and also toxicology.
What message would you like to send other members of the LGBT community who are considering college or a career in environmental protection?
Environmental justice is deeply tied into environmental protection, one cannot exist without the other. If you feel a passion to promote equality, the environmental movement is a great place to find peers who share that passion. It doesn't matter what your skill set is, I have found the environmental movement to be rather welcoming. But we can always use more people to help us along the way.