Profiles of Members of EPA's LGBT Community: David Ack
Profiles of Members of EPA's LGBT Community
---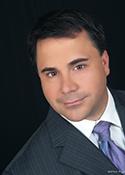 David Ack, Membership Committee Policy and Oversight Coordinator
Office of Mission Support
Federal Advisory Committee Management Division (FACMD)
Washington, DC
Where were you born?
Tampa, FL
What brought you to EPA?
I was working for the DC government when an opportunity for a grants specialist opened here at HQ.
Describe the type of work you do at EPA.
I manage and process all of the membership packages for all of the federal advisory committees for the Federal Advisory Committee Management Division, providing advice and guidance to the program offices and the Designated Federal Officers.
What is your highest level of education? What was your major?
I have a Master's degree in public administration.
What message would you like to send other members of the LGBT community who are considering college or a career in environmental protection?
Believe in your passion for not just what you do, but what you want to do. It's that motivation and love for the environment that we all share, let your voice become part of our choir.