Profiles of Members of EPA's LGBT Community: Mahri Monson
Profiles of Members of EPA's LGBT Community
---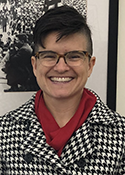 Mahri Monson, Case Manager
Office of General Counsel
External Civil Rights Compliance Office
Washington DC
Where were you born?
Minneapolis, Minnesota
What brought you to EPA?
A passion for human health and wellness, and a belief in the power of public policy to create a healthy environment where all humans can thrive.
Describe the type of work you do at EPA.
I work in EPA's External Civil Rights Compliance Office, and I help enforce federal civil rights laws that prohibit discrimination on the basis of race, color, national origin, sex, disability and age.
What is your highest level of education? What was your major?
I have bachelor's degrees in environmental science and Spanish, and a master's degree in environmental policy.
What message would you like to send other members of the LGBT community who are considering college or a career in environmental protection?
Your voice, perspectives and talents are so important and so needed in this world. I encourage you to dive into any area that interests you! I feel lucky every day that I get to work both on protecting human health AND on creating more inclusive spaces where everyone can belong and bring their whole, authentic selves to work.