Profiles of Members of EPA's LGBT Community: Mari Lee
Profiles of Members of EPA's LGBT Community
---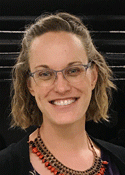 Mari Lee, Physical Scientist
Office of Chemical Safety and Pollution Prevention
Office of Pollution Prevention and Toxics
Washington DC (Headquarters)
Where were you born?
Minneapolis, Minnesota
What brought you to EPA?
I originally came to EPA for a career opportunity and permanent employment. This is when I made the transition from academia to federal service.
Describe the type of work you do at EPA.
I conduct chemical risk assessments for both new and existing chemicals in U.S. commerce. I assess chemical fate in the environment, as well as environmental and human exposure potential.
What is your highest level of education? What was your major?
I majored in chemistry as an undergraduate, and have a PhD in physical chemistry and a graduate minor in environmental health.
What message would you like to send other members of the LGBT community who are considering college or a career in environmental protection?
Be honest with yourself and seek a career that aligns with your interests, goals, and lifestyle. There are many possibilities when exploring study or work related to the environment, so find a field that is interesting to you—one that you think you can maintain passion for in the long-run. Talk to people in potential career fields. What does a typical day or week look like for them? Are they working independently and securing their own funding? Are they working on projects assigned by senior management? What does career progression look like in their field? How many hours a week do they work and what are their productivity expectations? Finally, be willing to take a leap— work in interdisciplinary settings, or try a new job or field of study. Often, lateral shifts can be instrumental in opening new doors, reinvigorating your work, and helping advance your career.