Profiles of Members of EPA's LGBT Community: Sherry Banks
Profiles of Members of EPA's LGBT Community
---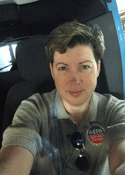 Sherry Banks
Federal On-Scene Coordinator, Life Scientist
LGBT Special Emphasis Program Manager
Superfund Emergency Management DivisionBoston, MA (EPA Region 1)
Where were you born?
I was born in South Carolina. I grew up in a military environment as a U.S. Army dependent and traveled extensively during my childhood. I continued to travel through study abroad programs, which shaped my character and world view. I have now lived in Boston longer than any other place in the world and have decided to call it my home.
What brought you to EPA?
I successfully began my career through the Student Intern Program while finishing my graduate degree. My internship focused on Environmental Stewardship, specifically the Water Technical Unit. I loved my intern position. I was able to go out in the field, assist on multiple projects and shadow others. This opportunity provided me with a great understanding of the different jobs EPA has to offer (not just science).
Describe the type of work you do at EPA.
I am a Federal On Scene Coordinator (OSC) in Emergency Response and the LGBT Special Emphasis Program Manager.  Part of my job duties include inspections, Time-Critical Removals, and emergency response work.  For larger scale responses, I can be deployed to natural disasters under the Federal Emergency Management Agency (FEMA). So far, I have deployed for Hurricanes Maria, Sandy, and Irene; and a major flooding event in Minot, North Dakota. I am the LGBT Special Emphasis Program Manager for Region 1.
What is your highest level of education? What was your major?
I have a master of science degree in environmental earth and ocean science with a focus on physical and biological oceanography.
What message would you like to send other members of the LGBT community who are considering college or a career in environmental protection?
If your passion and focus is in the sciences, I would definitely recommend applying for internship positions with federal, state, or local government or a non-profit organization. All of these groups work together to protect the environment and internships are a great way to find your fit.