Profiles of Members of the Native-American Community at EPA: JoAnn Brant
Profiles of Members of the Native-American Community at EPA
---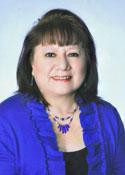 JoAnn Brant, Program Analyst
Office of Human Resources
Washington, DC
Where were you born?
Buffalo, New York
What is your tribal affiliation?
Oneida Nation
What brought you to EPA?
In January 2001, Mandaree Enterprise from the Three Affiliated Tribes of North Dakota reached out to me to work as a contractor at EPA headquarters in the Office of Administration and Resources Management (OARM). After two years in OARM, I was offered an Intergovernmental Personnel Act position working in the Office of Human Resources (OHR) as the Native American Recruitment Coordinator. I was then converted to permanent employee status.
Describe the type of work you do at EPA.
In OHR, I am a team member of the Diversity, Recruitment and Employee Services Division. I serve as the Pathways Officer for the agency, and work with student programs including the PMF Program, Mayor Marion Barry Summer Youth Employment Program and the Student Volunteer Programs. I also coordinate the Minority Serving Institutes (MSI) Program and National Recruitment Monthly Recruitment Call, as well as serve as an advisor for the Special Emphasis Program for American Indians and Alaska Natives.
Did you go to vocational school or college? What was your major?
I attended the State University of New York at Buffalo where I received my Bachelor of Science in occupational therapy.
What message would you like to send other American Indians/Alaska Natives who are considering college or a career in environmental protection?
When I work with American Indian/Alaska Native students, I encourage them to realize their full potential to become leaders in their communities and schools. I urge them to continue their education by obtaining college degrees, especially in the areas of science, technology, engineering, and math. I recommend that students gain valuable insight into how the government workplace functions by becoming student volunteers. I hope to inspire students to continue their education and pursue their career goals.